Notable Quotes
"P has discovered a bonanza area in the Victoria vein." (12/5/13) Primero Mining Corp. - Morning Coffee More >
"NRE has the highest basket price for contained minerals, within a well-defined resource with excellent expansion opportunity." (12/4/13) Namibia Rare Earths Inc. - The Gold Report Interview with Mike Niehuser More >
"LODE should double the rate of gold production in 2014 to 40 Koz/year." (12/4/13) Comstock Mining Inc. - The Gold Report Interview with Mike Niehuser More >
"NG is focusing on advancing Donlin Creek, arguably one of the world's largest undeveloped gold deposits." (12/4/13) NOVAGOLD - The Gold Report Interview with Mike Niehuser More >
"Investors should keep an eye on PG's Cove project in Nevada." (12/4/13) Premier Gold Mines Ltd. - The Gold Report Interview with Mike Niehuser More >
Companies
Last:
Change:
Change(%):
Volume:
Open:
High:
Low:
52Wk High:
52Wk Low:
Experts Commenting on This Company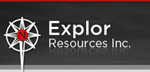 TICKER: EXS:TSX.V; EXSFF:OTCQX
Explor Resources is a gold and base metals exploration company with mineral holdings in Ontario, Quebec and Saskatchewan. The company is currently focused on exploring in the Abitibi Greenstone Belt of Ontario and Quebec, where more than 180 Moz gold and more than 450 Mt Cu-Zn ore have been found to date. Explor's total land position in the Belt is approximately 21,800 ha. The company also owns 1,991 ha of mining claims in Saskatchewan and 250 ha in New Brunswick.

---
The information provided below is from analysts, newsletters and other contributors. Please contact the company and visit its website before making an investment decision.
Expert Comments:
Henk Krasenberg, Goldview (1/15/13) "I wish that Explor Resources Inc. will continue to make good progress at its flagship Timmins Porcupine West project in the Porcupine mining camp of Ontario, Canada. . .CEO Chris Dupont has set the target to increase the resource to 3 Moz gold by the end of 2013—a great achievement to look forward to."
more comments
James O'Rourke, Mining MarketWatch (6/1/12) "Explor Resources Inc. is building gold ounces at its Timmins Porcupine West gold deposit in the prolific Abitibi Greenstone Belt of Ontario, has a market cap under $25M, and is poised for considerable share price appreciation as the reality of the accomplishment underway is appreciated by the market. . .a readily achievable target of 3 Moz by the end of 2013 represents just the tip of the iceberg."
Mining Market Watch (3/16/12) "Explor Resources Inc. has affirmed the model at Timmins Porcupine West and is growing fast; after 90 drill holes the current gold resource is 127 Koz Indicated and 704 Koz Inferred. By the end of 2012 we forecast it to be advanced to ~1.5 Moz gold and by the end of 2013, advanced to ~3 Moz gold. . .it appears the time to buy the company is now while it is trading under $0.30 and poised for significant upside share price revaluation to reflect the inherent value of its properties and immense potential."
The Gold Report Interview with Michael Ballanger (2/13/12) Another favorite that we've been involved with for four years and participated in multiple financings for is Explor Resources Inc. (EXS:TSX.V). It reported an NI 43-101-compliant 800,000 oz resource recently. It has been one of our top five companies since 2007.
Greg McCoach, Mining Speculator (2/1/12) "Explor Resources Inc. announced assays from recent drilling on the Timmins Porcupine West project and the news was very good. . .once again it hit gold in all of its drill holes, but hole 60 hit a stellar 114.8 g/t gold over 7.8m. . .slowly but surely the company continues to build the case that it is on to a major discovery; with each set of new drill results, it is getting closer and closer to where a major will have to partner or take it out."
Greg McCoach, Mining Speculator (1/30/12) "It wouldn't surprise me in the least if Explor Resources Inc. finally hit a glory hole of some sort; its flagship property is going to be a winner and its NI 43-101 numbers keep growing. As this happens, the majors will be forced to take a much closer look because the Porcupine project has big written all over it. . .the company is on a good course now and will bring many new investors to the table in the coming months as the good news keeps coming. . .Explor is a Buy at current levels."
fewer comments
Due to permission requirements, not all quotes are shown.
Explor Resources Inc. Content
---