Notable Quotes
"CGT has one of the better looking charts." (3/12/14) Columbus Gold Corp. - The Gold Report Interview with Eric Coffin More >
"ROG's PEA projects a low cash cost of $455/oz and a 47.7% IRR." (3/5/14) Roxgold Inc. - The Gold Report Interview with Ron Struthers More >
"BAR's drill results from Grasset attest to the area's underexplored nature and polymetallic potential." (3/5/14) Balmoral Resources Ltd. - Eric Lemieux, Laurentian Bank Securities More >
"TGM has demonstrated a 100% success rate at five new Karma targets." (3/4/14) True Gold Mining Inc. - Tara Hassan, Haywood Securities More >
"GUY will continue to be an excellent stock to own." (3/4/14) Guyana Goldfields Inc. - Ben Kramer-Miller, Wall St. Cheat Sheet More >
Companies
Last:
Change:
Change(%):
Volume:
Open:
High:
Low:
52Wk High:
52Wk Low: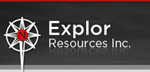 TICKER: EXS:TSX.V; EXSFF:OTCQX
Explor Resources is a gold and base metals exploration company with mineral holdings in Ontario, Quebec and Saskatchewan. The company is currently focused on exploring in the Abitibi Greenstone Belt of Ontario and Quebec, where more than 180 Moz gold and more than 450 Mt Cu-Zn ore have been found to date. Explor's total land position in the Belt is approximately 21,800 ha. The company also owns 1,991 ha of mining claims in Saskatchewan and 250 ha in New Brunswick.

---
The information provided below is from analysts, newsletters and other contributors. Please contact the company and visit its website before making an investment decision.
more comments
James O'Rourke, Mining MarketWatch (6/1/12) "Explor Resources Inc. is building gold ounces at its Timmins Porcupine West gold deposit in the prolific Abitibi Greenstone Belt of Ontario, has a market cap under $25M, and is poised for considerable share price appreciation as the reality of the accomplishment underway is appreciated by the market. . .a readily achievable target of 3 Moz by the end of 2013 represents just the tip of the iceberg."
Mining Market Watch (3/16/12) "Explor Resources Inc. has affirmed the model at Timmins Porcupine West and is growing fast; after 90 drill holes the current gold resource is 127 Koz Indicated and 704 Koz Inferred. By the end of 2012 we forecast it to be advanced to ~1.5 Moz gold and by the end of 2013, advanced to ~3 Moz gold. . .it appears the time to buy the company is now while it is trading under $0.30 and poised for significant upside share price revaluation to reflect the inherent value of its properties and immense potential."
fewer comments
Due to permission requirements, not all quotes are shown.
Explor Resources Inc. Content
---