Notable Quotes
"GRG has an exciting high-grade silver discovery and just released an NI-43-101-compliant resource estimate with 105 Moz Ag eq." (5/17/13) Golden Arrow Resources Corp. - The Gold Report Interview with Thibaut Lepouttre More >
"THO's Escobal remains on budget and on schedule; its progress is encouraging." (5/10/13) Tahoe Resources Inc. - Chris Thompson, Raymond James More >
"We reiterate our Outperform rating on P and it remains one of our top picks." (5/10/13) Primero Mining Corp. - Shawn Campbell, Macquarie Capital Markets More >
"DGC is attractively priced and should outperform its peers." (5/10/13) Detour Gold Corp. - Brad Humphrey, Raymond James More >
"Lead, zinc and gold factor heavily into the economics for MAG's Juanicipio silver project." (5/14/13) MAG Silver Corp. - The Metals Report Interview with Brent Cook More >
Companies
Last:
Change:
Change(%):
Volume:
Open:
High:
Low:
52Wk High:
52Wk High:
Experts Commenting on This Company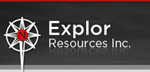 TICKER: EXS:TSX.V; EXSFF:OTCQX
Explor Resources is a gold and base metals exploration company with mineral holdings in Ontario, Quebec and Saskatchewan. The company is currently focused on exploring in the Abitibi Greenstone Belt of Ontario and Quebec, where more than 180 Moz gold and more than 450 Mt Cu-Zn ore have been found to date. Explor's total land position in the Belt is approximately 21,800 ha. The company also owns 1,991 ha of mining claims in Saskatchewan and 250 ha in New Brunswick.

---
The information provided below is from analysts, newsletters and other contributors. Please contact the company and visit its website before making an investment decision.
Expert Comments:
Henk Krasenberg, Goldview (1/15/13) "I wish that Explor Resources Inc. will continue to make good progress at its flagship Timmins Porcupine West project in the Porcupine mining camp of Ontario, Canada. . .CEO Chris Dupont has set the target to increase the resource to 3 Moz gold by the end of 2013—a great achievement to look forward to."
The Gold Report Interview with Greg McCoach (10/15/12) "Explor Resources Inc. is a company that's in a great area. All the infrastructure is right there. It got a lot of attention over the last three years from investors and mining companies. . .lately the company has had some of its best drill results. It hit 35 meters of 8 grams/ton gold, which is very good. . .I do think Explor will do well because it will be coming out in late November or early December with around a 1.5 Moz NI 43-101 resource calculation, which should be a bankable asset. The rest of the assays on further drilling will be coming out later this fall and will be calculated in another NI 43-101 resource sometime in April/May 2013. I think that will be around 2.2 Moz. That's a significant resource and the majors have to pay attention because it's located just 10–15 minutes outside of Timmins, in an area with infrastructure, that doesn't cost a lot to build a mine and has no permitting issues. I do think that, ultimately, Explor will perform well. . .as these NI 43-101 numbers come out, this stock will get back to a more respectable level and eventually will be joint ventured or possibly taken out by a bigger entity." More >
Mining MarketWatch (9/17/12) "The current resource at Explor Resources Inc.'s Timmins Porcupine West gold deposit is 212,800 oz gold Indicated at 4.83 g/t plus 814,800 oz gold Inferred at 3.56 g/t. . .by the end of 2012 we forecast the resource to be advanced to ~1.5 Moz gold, and by the end of 2013 advanced to ~3 Moz gold. That would represent only 10% of the deposit's potential. . .the time to buy Explor is now while it is trading under $0.16 and poised for significant upside share price revaluation to reflect the inherent value of its properties and immense potential."
Greg McCoach, Mining Speculator (8/31/12) "In the recent press release from Explor Resources Inc., assay results of 33.2m 7.65 g/t gold are exactly the kinds of numbers we are expecting to find at Timmins Porcupine West. . .what these latest drill results tell us is that the model we have talked about for the company is not only intact but also alive and well. . .it represents a Buy as our new NI 43-101 numbers will be posted sometime in Q4/12."
Pope & Company Morning Notes (6/7/12) "Explor Resources Inc. announced the completion of its resource estimate for the Timmins Porcupine West Gold Property located in Bristol and Ogden Townships 15km from downtown Timmins, Ontario; the property is located in the famous Timmins-Porcupine mining camp within proximity to past and existing producers. The Indicated resource is 212,800 oz (4.38 g/t) Au and Inferred resource is 814,800 oz (3.56 g/t) Au."
Explor Resources Inc. Content
---