Maurice Jackson: Joining us for conversation today is Greg Johnson, the CEO of one of the market's leading silver explorers, Metallic Minerals Corp. (MMG:TSX.V; MMNGF:OTCMKTS). Mr. Johnson, what a pleasure to have you back on our program to discuss the latest developments by Metallic Minerals, which is known for high-grade silver in the Keno Hill Silver District of Canada's Yukon Territory. Mr. Johnson, for someone new to Metallic Minerals, please share the investment opportunity the company presents to the market.
Greg Johnson: Metallic Minerals is a leading explorer for silver and gold, and we are focused in some of the highest-grade, historic, producing districts for those metals—particularly the Keno Hill silver district, and with our recent acquisition in the southwestern U.S. in the La Plata mining district.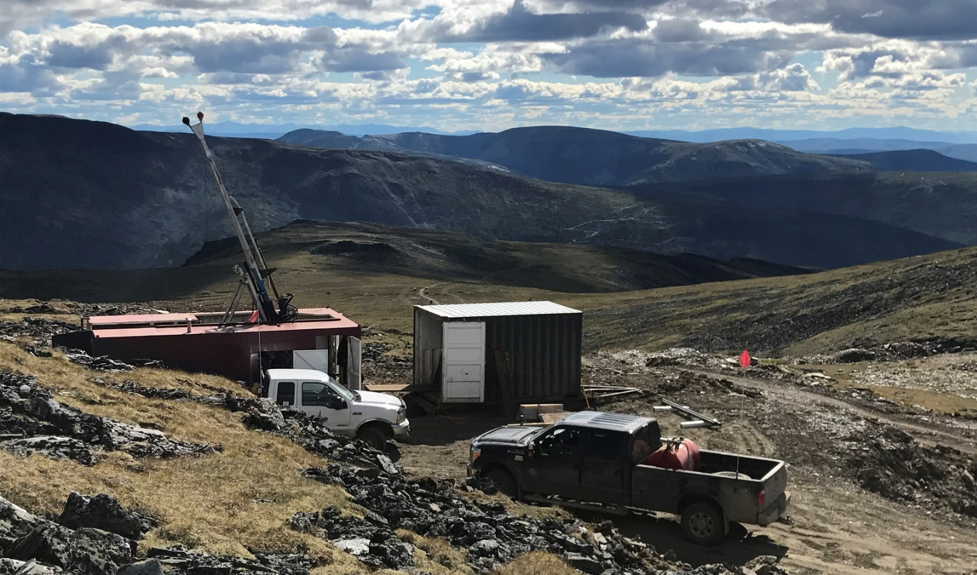 Maurice: In a press release issued last week, Metallic Minerals announced a strategic investment by one of the sector's leading resource investors, billionaire Eric Sprott. What an accomplishment. Take us behind the scenes for a moment and give us some background on the details on this transaction.
Greg: Well, Maurice, as you know, Eric is very bullish on silver, as well on the other metals in the precious metals space—but particularly on silver. We are very excited to have Eric as a strategic level investor in the company. You may know that he was one of the early investors in NOVAGOLD Resources Inc. (NG:TSX; NG:NYSE.MKT), and was a great supporter and sponsor of the company. So, I'm really excited to be working with Eric again. I think it's really recognition of the value that we've been building; particularly our Keno Hill Silver Project, and the potential with that opportunity.
Maurice: Mr. Johnson, what does this suggest to current and prospective shareholders when one of our industry's most prominent and renowned investors is taking a strategic level investment into Metallic Minerals?
Greg: Well, I think it says a couple of things. I think it says that smart money, experienced money, which this is really—their focus is on starting to put real money to work in the sector. And it highlights that we've been through a very difficult market. But you know, this is the one of those buy low, high-quality opportunities that that comes along every 10 years or so in our sector.
Secondly, I think its real recognition of the value that we've created in Metallic Minerals—the fact that the Keno Hill silver district is so compelling in terms of its grade historically, and the geologic understanding that it's just such a strong opportunity for new discovery and for developing high-grade silver resources that can be brought rapidly to market.
Maurice: Let's visit the Company's flagship Keno Silver Project, where the company has some exciting news regarding the definition of 10 new multi-kilometer targets along with several high-grade Keno type targets that you've already been drilling on. Let's start with the big picture and the district. Tell us about the Keno Hill Silver District and how you managed to acquire half of one of the world's highest grade silver districts.
Greg: The Keno Hill Silver District really has an amazing history. Many people know of the Klondike gold rush at the turn of the last century. What they may not know is there was more value in silver that came out of the Keno Hill Silver District in the Yukon than out of all of the Klondike.
It was discovered shortly after the Klondike gold rush. There were a number of individual miners who came in and found, in the western part of the district, these veins that were sticking right out of the mountain side. And over time there's been over 300 million ounces in past production and current resources at some of the highest grades in the industry.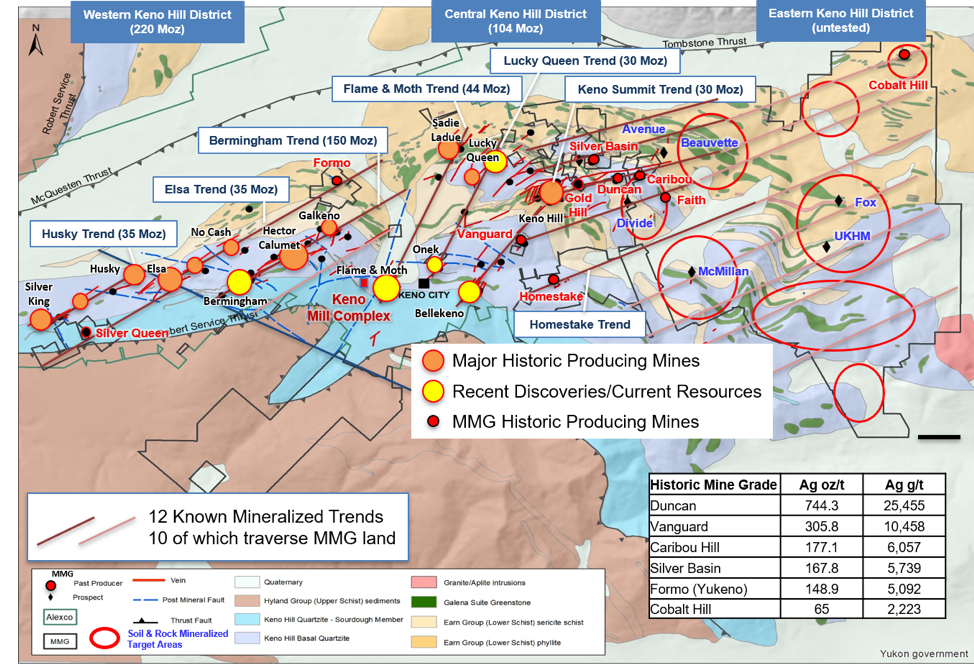 So, it's a very exciting place to be doing new exploration and to be bringing in new perspectives. Because of that long history, as you can imagine, it had quite a patchwork of land ownership. We have managed, over the last couple of years, to acquire the entire eastern part of the district, where the geology continues and has the same structure, and that's where we've developed some very exciting targets that I'm sure we'll talk about. That's in addition to our holdings within the central, western and even down dip on the west part of the districts, [where] we're quite excited about [continuing] to build on some of those new discoveries in the district that have been made recently by Alexco Resource Corp. (AXU:NYSE.MKT; AXR:TSX).
Maurice: In reference to your neighbor Alexco, they've made some pretty amazing silver discoveries in the past couple of years in the Keno Hill district and have a number of important upcoming milestones. Can you give us some background on what we can expect to see happening in this famous historic mining district over the next few months?
Greg: The Alexco story is really an exciting one. Over the last 10 years in the district, but particularly in the last several years, they've made two major silver discoveries, about 60 million ounces. Their Bermingham silver deposit, which they are going back into production with, will arguably be the best high-grade silver mine in the world, starting right at surface, with exceptional grades of well over a thousand grams per tonne silver. It's really a game changer, not only for an Alexco but for the district as a whole, indicating that if you can find those kinds of deposits near where the some of the biggest deposits in the district had been previously mined, that there are still all kinds of opportunities—low-hanging fruit, as we say in the industry—to find a new major discoveries.
In terms of near-term milestones, Alexco has announced to the market that they will be turning on the two new mines at Bermingham and Flame and Moth. And I believe that they are scheduled to start producing ore again in the fourth quarter of this year. It's an exciting time in the district, to see production restarting, and it's an exciting time for us to be exploring in that same district and really starting to understand and advance, through our systematic exploration work, the potential that we have.
Maurice: And now focusing on Metallic Minerals work in the Keno Hill Silver District. Please walk us through what you have discovered so far there.
Greg: It's been a systematic process. This is going into our third year as a company. We started out in the late summer of 2016. The first year was quite focused on acquisition of our land package, 166 square kilometers. And following that, it was really a synthesis process of acquiring the historic information, the exploration, the mines that were developed on our ground—there are eight different historic mines where they had high enough grades to mine by hand at the surface in the 1920s and '30s—going back in and re-looking at those. We say in the business that the best place to find a mine is right next to where one has already been found, and so really being able to bring a modern approach to exploration into this district that has this amazing history.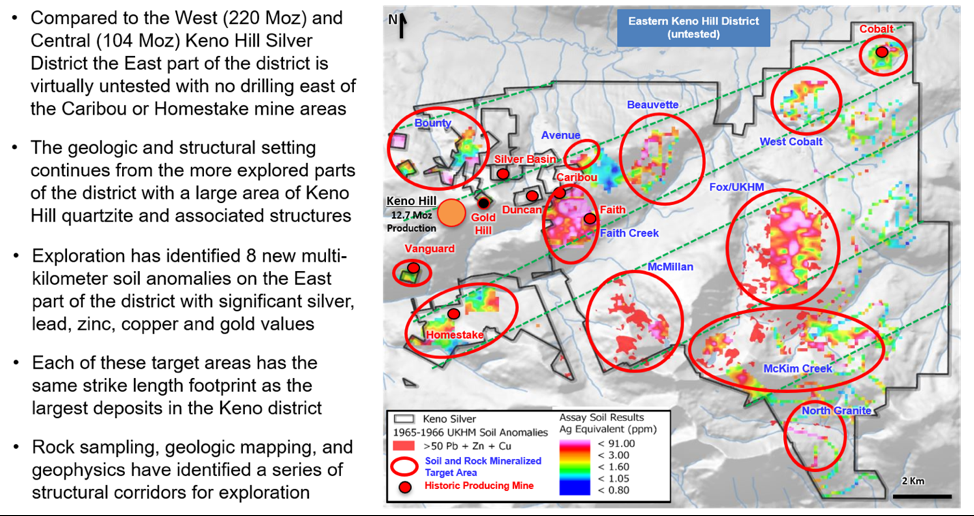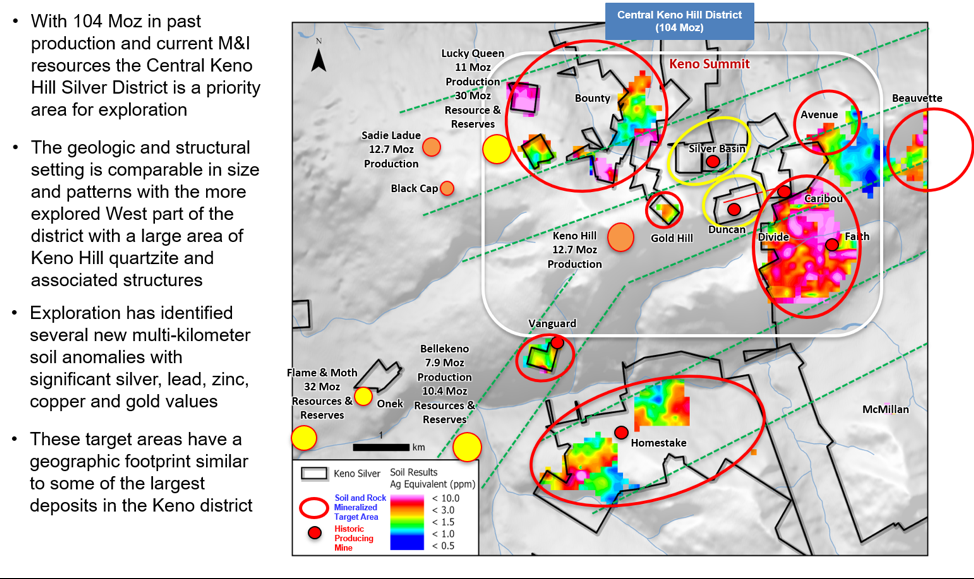 It was a process of prioritization, where we took 40 different target areas and prioritized those based on the ones that have the most information and the most potential. Three of those we've already been drilling on and we've been able to hit the structures on those three targets very consistently, probably hitting the structure on about a 90% success rate. We're hitting Keno-style high-grade mineralization, so the same material that you're seeing over on the western part of the district with Alexco. We're now starting to step along those structures, down dip and laterally, looking for where they're going to get wider, where we can build up the tonnage.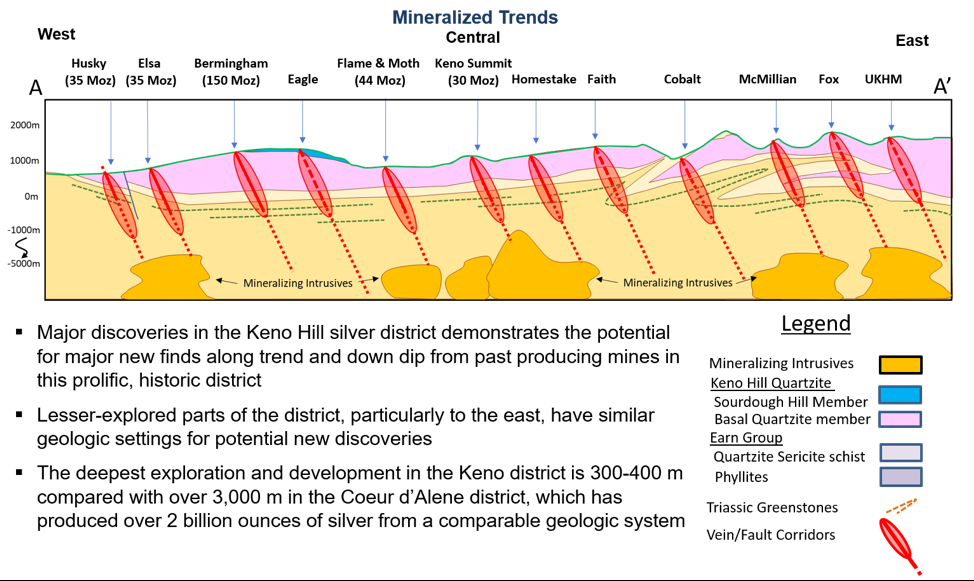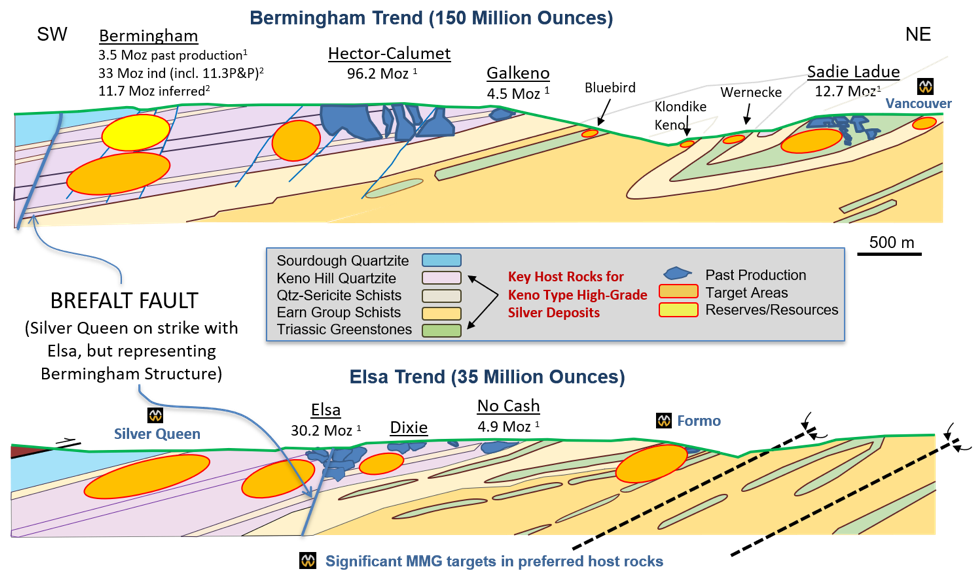 But you know, the real success there is we've already got three targets that we're building on starter resources. We've got three additional targets that are advanced enough that they're ready to drill, and we'll be looking to get the first holes into those probably in early 2020. And then on the Eastern part of the district, which is quite amazing, you've got half the district. Though it has the same geology and the same structural setting as we see on the west, because it was more remote historically—it didn't have road access and it's forested—it really didn't get the exploration focus that the western part of the district did.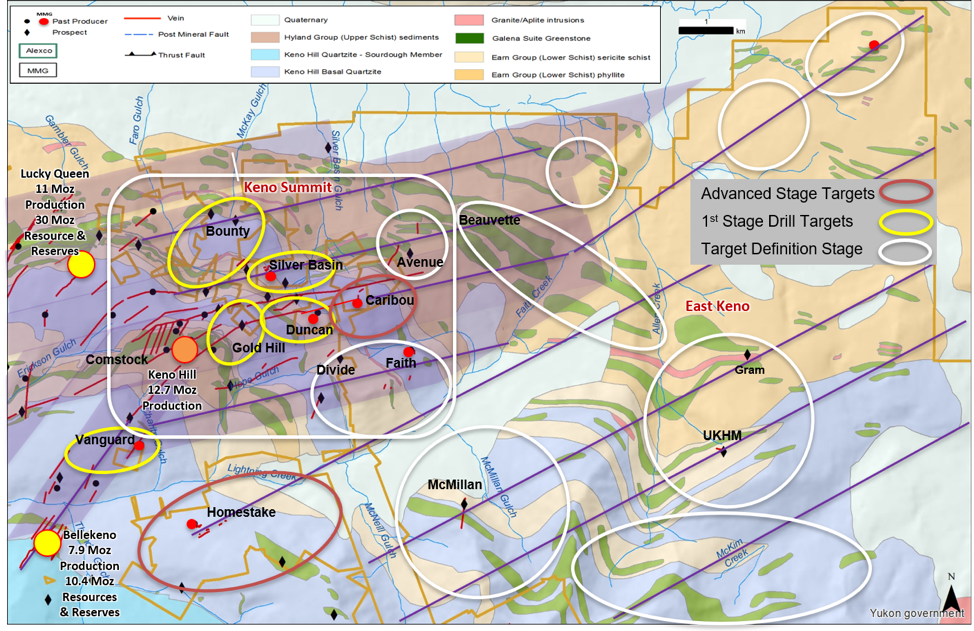 We've gone in and conducted geophysics, soil sampling, really applied our modern exploration tool set, and we're very pleasantly surprised and pleased to have defined 10 targets that exceed two to five kilometers in length that are each showing enriched silver in soils and rocks that indicate very significant silver targets. Our teams were back out on those sites this year. Results are going to be coming from that work here fairly soon, but they've been able to confirm that, in fact, we are seeing Keno-style rubble crop, as we call it. [This is] vein rubble at the surface that is showing Keno-type grades: 500 to 1,000 grams per tonne silver values. We're onto something very significant and the scale of these targets are larger than anything that's been previously seen in district, so it's quite an exciting time for us.
Maurice: I think that's exactly what the value proposition that Mr. Sprott saw, based off what you just conveyed to us. What should we expect in terms of news from the ongoing work at Keno Hill?
Greg: We're just wrapping up those field programs now. Of course, it takes a bit of time for results to come back from the assay lab, but I would anticipate that we should have news flow over the coming weeks and months as those programs start to come in. A particular focus of the program was refining these targets. Many of these soil anomalies and mineralized areas were open-ended. In other words, we didn't know where the edges were, so we extended those soil lines and we're really trying to figure out what are the highest grade and the best targets, with the idea that we'd be looking to come in early next year and start to drill test those and really get a sense for how big they are—as well as continuing to advance those targets that already have drilling that we're building these initial resources on.
Maurice: Let's leave the Yukon for a moment and introduce investors to the newest project in the Metallic portfolio. We see that you've turned your focus southward and that Metallic Minerals has announced strategic acquisition of the La Plata silver-gold-copper project located in southwest Colorado. Mr. Johnson, please introduce us to the value proposition of the La Plata Silver-Gold-Copper Property.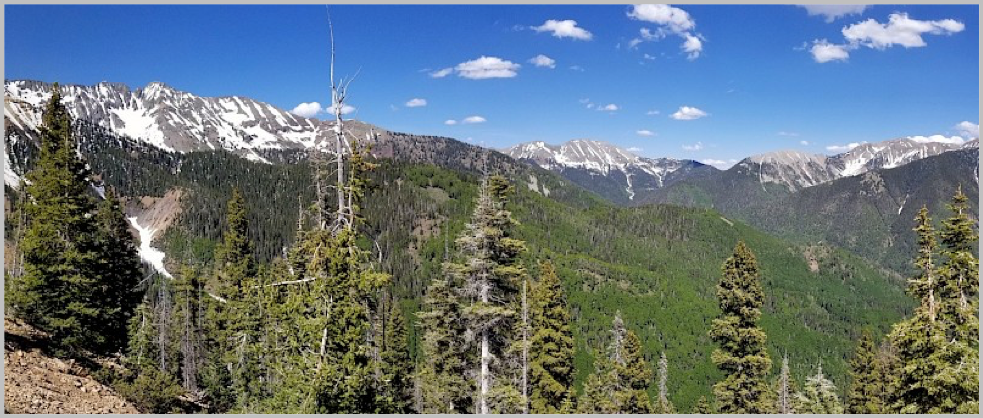 Greg: This is an exciting opportunity. Part of our approach in Metallic Minerals, and in the other companies in the Metallic Group of Companies, has been to be open to opportunities. In my experience, sometimes you just have to be in the right place at the right time and be able to recognize value that perhaps others haven't. In the case of our new acquisition in the La Plata District, it is in the United States, in the very southwestern corner of Colorado. It's in what's called the Colorado mineral belt, which is this amazing area of both historic and current production. Almost 50 million ounces of gold has been produced from this mineral belt and 500 million ounces of silver, so almost half a billion ounces—mostly, like in Keno Hill, from relatively shallow, high-grade vein systems. But you also have big operators like Newmont Goldcorp Corp. (NEM:NYSE), with their Cripple Creek mine complex that has over 30 million ounces of gold.
We've seen production from a number of these districts that's measured in the five-plus-million-ounce range, and in terms of silver, hundreds of millions of ounces, so we know we're in the right neighborhood on this project. It's got a long history. It's called the La Plata project because it was discovered by the Spanish, who found high-grade silver all the way back in the 1700s, and they only paid attention to something if it was quite spectacular.
And then, similar to the Keno district, but earlier in terms of the start, we saw over 90 high-grade mines and prospects get developed between the 1880s and the 1940, when World War II broke out. During that period, the focus by these individual miners was on the high-grade silver and gold vein systems that cropped right out at surface and were being mined by hand, much like the Keno District.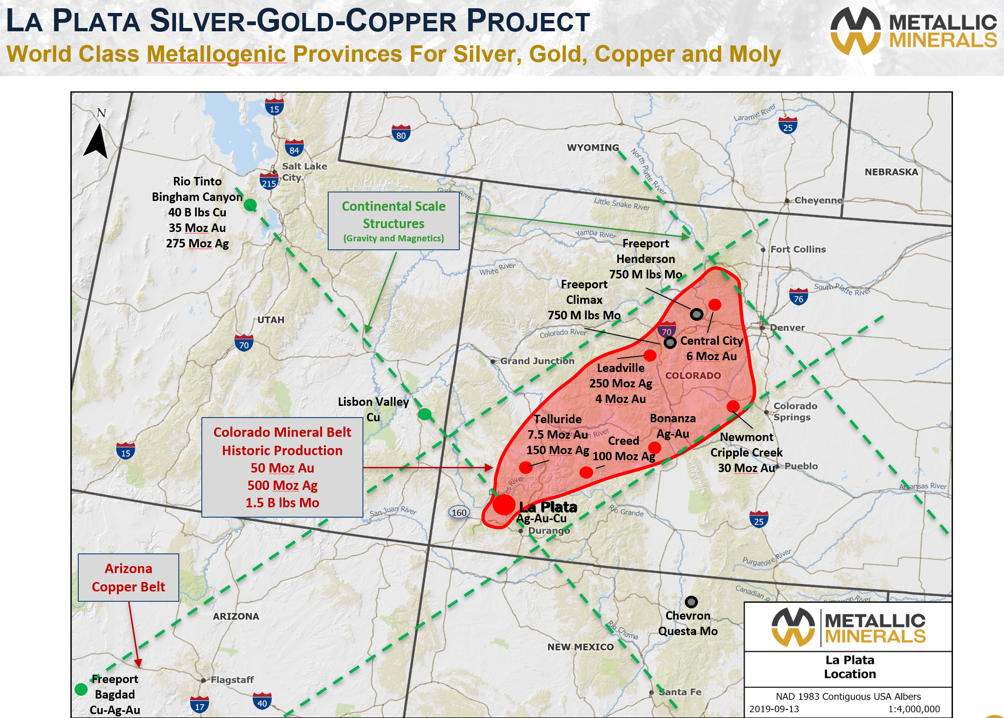 The U.S. shut down mining during the war years and effectively we didn't see the individual miners come back. But in the 1950s and '60s, we saw some of the major copper companies—Rio Tinto Plc (RIO:NYSE; RIO:ASX; RIO:LSE; RTPPF:OTCPK) first, followed later by Phelps Dodge, which is now Freeport-McMoRan Inc. (FCX:NYSE)—recognizing that there was a major precious-metals-rich porphyry system in the center of this vein district. So, they came in and started drilling these porphyry targets. Of course, back in 1960, copper was less than $0.60 a pound, so they would've been looking for exploration targets that would indicate something that could be mined in bulk at over 1% copper. In today's world, copper deposits that are being looked at are often measured in the 0.2–0.3% copper grades. So, it's a very different world at a $2.50+ copper price.
What this work that was done in the 50s and 60s did was show that we have a very large, high-precious-metals porphyry system in the center of the district. They drilled enough holes to define an historic resource that starts right at surface that would indicate a very significant copper and silver historic resource that's open-ended. What's exciting for us is that this district has basically seen no exploration. Phelps Dodge held it all the way through the late nineties, when it was acquired by the two parties that we did our agreement with.
The last kind of significant work in the district, outside of the drilling on the porphyry system, was mapping in the 1940s. There's never been systematic exploration in terms of soils or geophysics or any of the modern tools that we've been employing recently at Keno to great success. We control the entire district and we've got the opportunity to come in and work on something where we believe we have a potential Keno-type district that surrounds a historic mineral resource that could be rapidly advanced to resources in the ground. So, we're really quite excited about this acquisition and this development.
Maurice: I have to commend you. I'm very impressed with the company's business acumen, as Metallic Minerals provides shareholders with exceptional upside through a strategic acquisition of half of one of the world's richest silver districts at Keno Hill, and now follows that with the 100% acquisition of one the richest silver-gold districts in the USA. This gives Metallic Minerals not just value leverage to rising precious metal prices, but the ability to build new insignificant resources very quickly. What are the details of the La Plata transaction, and are there any backend rights or royalties?
Greg: One of the exciting things about this is that the district hasn't seen exploration since Rio Tinto and Phelps Dodge, and it was just held for decades. So, we were able to do an agreement with the vendors that acquired the ground from Phelps Dodge at the bottom of the last copper market cycle. There's a small royalty with a buydown, so we've got 100% on this. It's an option because we have four years to basically get in, to do the work that we need to do to demonstrate we've got a significant resource here. These holders that we've done the option agreement with are going to receive shares. So, they're going to be investors just like you and I, and their expectation is their value will come from appreciation in the share price relative to this opportunity.
Maurice: I'm smiling ear to ear. These are some great strategic moves you're making, Mr. Johnson. Kudos to you. What type of work is being conducted at La Plata, and when can we expect results?
Greg: The nice thing about this more southern project is that it gives us a longer exploration season. We've got teams that are on the ground now and we're basically doing those geologic layers; teams are out doing rock sampling, mapping soils. We're undertaking a variety of geophysical surveys, really trying to understand particularly the high-grade vein systems outside of the porphyry in order to move this towards first drill testing by early next year.
Maurice: Switching gears, Mr. Johnson, please share the current capital structure of Metallic Minerals. And who are the major shareholders?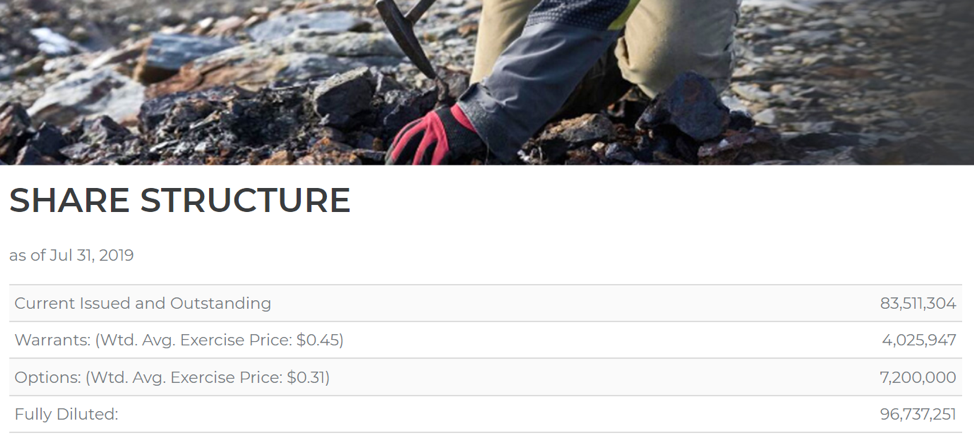 Greg: Well, currently there's about 83.5 million shares outstanding. With Mr. Eric Sprott coming in, he will be our largest individual shareholder. Management owns about 25% of the company. We've been building our institutional ownership base. We have names like US Global and others that are prominent resource funds that already own something on the order of about 12% of the shares. We've got a number of high net worth individuals who have invested in some of our past companies, and then our retail component. We've got a nice tight share structure, particularly for the assets that we have in the company. And we've got some great supporters in the shareholder register.
Maurice: What would you like to say to current and prospective shareholders regarding the opportunity that is before us right now in the market with Metallic Minerals and the silver sector specifically?
Greg: I think we touched early on that we are at one of these unique inflection points in the cycle. The metal price cycle peaked back in 2011 and we've seen the bear market ensue from there. And then over the last several years we've really been in a market bottoming, consolidation phase. With investors like Eric Sprott putting money to work along with some of these sophisticated mining funds, this is really an opportunity for investors to be looking at high quality names in the sector.
Metallic Minerals, based on what we've been quietly building during the bear market, is really taking advantage of the fact that we were in a bear market to acquire assets that we would probably not likewise be able to go after during more busy and higher-valued times of the sector cycle, so I think there's a real value opportunity here. These are new companies that the market is not yet aware of and, of course, it's always challenging for investors to find out about these smaller cap companies because there's just not a lot of research coverage. But I think it's a real opportunity to be buying quality. I think we're at a major inflection point in the precious metal cycle that really could be one of those rare buy low opportunities that we all look for.
Maurice: Speaking of companies and speaking of quality, Metallic Minerals is part of the Metallic Group of Companies. Can you walk us through, briefly, the Metallic Group and share the common synergies and strategies that you've been executing with all three companies?
Greg: This has been something that's been evolving over the last couple of years. But we had the opportunity, really coming out of the bear market, to [ask] "how do we create value as a group?" These are a number of individuals that I've worked with in the past at NOVAGOLD, people from the Ivanhoe Group; we have people that have worked with the major mining companies and we were able to say, "We know we've been in a bear market, we think that transition is happening. . .so how can we go after this?" So we've focused on brownfields acquisitions; in other words, acquisitions in districts where you already have found mines. And in the case of each of the three Metallic Group companies, each one is adjacent to either existing or past production.
This means all the infrastructure is already there: roads, power. . .so that means the development pathway is going to be not only less capital-intensive, but probably a much faster course to production. And, uniquely in each of these three cases, these are some of the highest-grade producers in their metal class, so these are really exceptional districts to be exploring in. Because they were smaller companies that were operating these mines, they did not acquire all the exploration ground in their districts and that presented the opportunity, in the bear market, for us to go in [and] do the hard work to stitch together these current land packages. The first company was Metallic Minerals, which we've been speaking about, and that was 2016. In 2017, we had the opportunity to pick up the Lower Stillwater complex in Montana, adjacent to the Stillwater mines, which are among the highest-grade platinum and palladium producers in the world.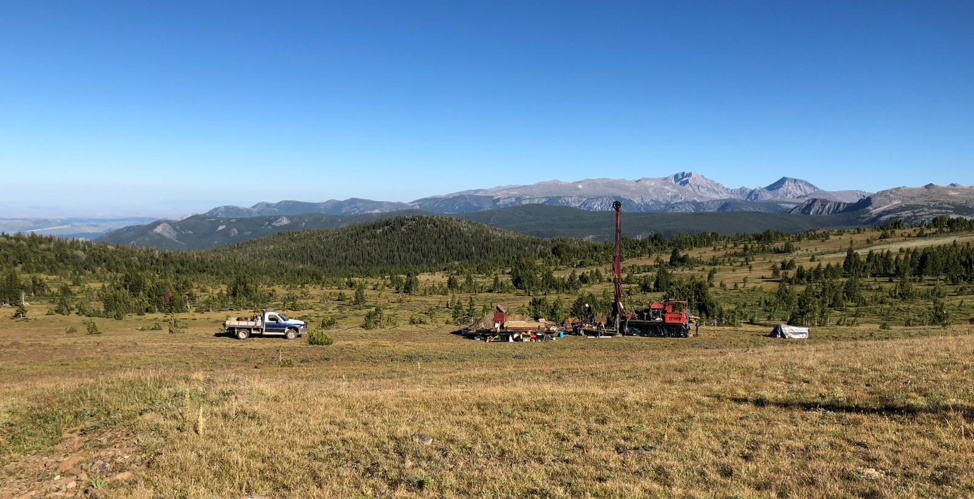 That acquisition was followed almost immediately by Sibanye Gold Ltd. (SBGL:NYSE) out of South Africa, acquiring the Stillwater mines for $2.2 billion. So, we're really solidifying the value proposition there. The third and the newest company, which just started trading in January of this year, is Granite Creek Copper. It is focused in the Carmacks/Minto Copper District in the Yukon, just south of the Minto mine, which was previously owned by Capstone Mining and now by Pembridge Resources (PERE:LSE), and they're bringing back into production.
But again, it is a district that's shown the opportunity to find high-grade deposits, as with the other Metallic Group companies, and that has the existing infrastructure in place. So, it's really quite a unique series of opportunities that we've been able to put together in the group of companies. And in the case of each one, the ground that had been tied up for more than 50 years and had not seen modern exploration. So, we're really excited about all three companies in the Metallic Group.
Collectively, the three companies bring an opportunity in a mix of metals where you've got dedicated managements and boards in each company, you've got reduced costs and synergies between the group and a deeper technical team that can have some collaboration across the three. So, it's a very exciting opportunity to bring these together. The Metallic Group companies represent unique value in the mining space and in all three companies we believe we have the potential to move to new resources in the near term. And as you know, that is one of the biggest drivers in creating value in the exploration space.
Maurice: And for audience members, we're proud to share that all three Metallic Group companies referenced are sponsors of Proven and Probable, and equally, we are proud to be shareholders of all three. Mr. Johnson, for readers who want to get more information about Metallic Minerals, please share the website address.
Greg: For Metallic Minerals, the website address is metallic-minerals.com, and metallicgroup.ca on the broader Metallic Group of Companies.
Maurice: For direct inquiries, please contact Chris Ackerman at (604) 629-7800 ext. 1, or you may email [email protected]. Metallic Minerals trades on the TSX.V: MMG | OTCQX: MMNGF.
As a reminder, I'm a licensed representative for Miles Franklin precious metals investments. We provide a number of options to expand your precious metals portfolio, from physical delivery, offshore depositories, precious metal IRAs, and private blockchain distributed ledger technology. Call me directly at (855) 505-1900, or you may e-mail: [email protected]. Finally, please subscribe to ProvenandProbable.com where we provide mining insights and bullion sales. Greg Johnson of Metallic Minerals, thank you for joining us today on Proven and Probable.
Greg: Thanks for having us. It was a pleasure.
Maurice Jackson is the founder of Proven and Probable, a site that aims to enrich its subscribers through education in precious metals and junior mining companies that will enrich the world.
Read what other experts are saying about:
[NLINSERT]
Disclosure:
1) Maurice Jackson: I, or members of my immediate household or family, own shares of the following companies mentioned in this article: Metallic Minerals, Granite Creek Copper, Group Ten Metals. I personally am, or members of my immediate household or family are, paid by the following companies mentioned in this article: None. My company has a financial relationship with the following companies mentioned in this article: Metallic Minerals, Granite Creek Copper and Group Ten Metals are sponsors of Proven and Probable. Proven and Probable disclosures are listed below.
2) The following companies mentioned in this article are billboard sponsors of Streetwise Reports: Group Ten Metals, Granite Creek Copper and Metallic Minerals. Click here for important disclosures about sponsor fees. As of the date of this article, an affiliate of Streetwise Reports has a consulting relationship with Group Ten Metals, Granite Creek Copper and Metallic Minerals. Please click here for more information.
3) Statements and opinions expressed are the opinions of the author and not of Streetwise Reports or its officers. The author is wholly responsible for the validity of the statements. The author was not paid by Streetwise Reports for this article. Streetwise Reports was not paid by the author to publish or syndicate this article. The information provided above is for informational purposes only and is not a recommendation to buy or sell any security. Streetwise Reports requires contributing authors to disclose any shareholdings in, or economic relationships with, companies that they write about. Streetwise Reports relies upon the authors to accurately provide this information and Streetwise Reports has no means of verifying its accuracy.
4) This article does not constitute investment advice. Each reader is encouraged to consult with his or her individual financial professional and any action a reader takes as a result of information presented here is his or her own responsibility. By opening this page, each reader accepts and agrees to Streetwise Reports' terms of use and full legal disclaimer. This article is not a solicitation for investment. Streetwise Reports does not render general or specific investment advice and the information on Streetwise Reports should not be considered a recommendation to buy or sell any security. Streetwise Reports does not endorse or recommend the business, products, services or securities of any company mentioned on Streetwise Reports.
5) From time to time, Streetwise Reports LLC and its directors, officers, employees or members of their families, as well as persons interviewed for articles and interviews on the site, may have a long or short position in securities mentioned. Directors, officers, employees or members of their immediate families are prohibited from making purchases and/or sales of those securities in the open market or otherwise from the time of the interview or the decision to write an article until three business days after the publication of the interview or article. The foregoing prohibition does not apply to articles that in substance only restate previously published company releases. As of the date of this article, officers and/or employees of Streetwise Reports LLC (including members of their household) own shares of Group Ten Metals, Granite Creek Copper and Metallic Minerals, companies mentioned in this article.
Proven and Probable LLC receives financial compensation from its sponsors. The compensation is used is to fund both sponsor-specific activities and general report activities, website, and general and administrative costs. Sponsor-specific activities may include aggregating content and publishing that content on the Proven and Probable website, creating and maintaining company landing pages, interviewing key management, posting a banner/billboard, and/or issuing press releases. The fees also cover the costs for Proven and Probable to publish sector-specific information on our site, and also to create content by interviewing experts in the sector. Monthly sponsorship fees range from $1,000 to $4,000 per month. Proven and Probable LLC does accept stock for payment of sponsorship fees. Sponsor pages may be considered advertising for the purposes of 18 U.S.C. 1734.
The Information presented in Proven and Probable is provided for educational and informational purposes only, without any express or implied warranty of any kind, including warranties of accuracy, completeness, or fitness for any particular purpose. The Information contained in or provided from or through this forum is not intended to be and does not constitute financial advice, investment advice, trading advice or any other advice. The Information on this forum and provided from or through this forum is general in nature and is not specific to you the User or anyone else. You should not make any decision, financial, investments, trading or otherwise, based on any of the information presented on this forum without undertaking independent due diligence and consultation with a professional broker or competent financial advisor. You understand that you are using any and all Information available on or through this forum at your own risk.
Images provided by the author.