Maurice Jackson: Joining us today is Michael Rowley, president and CEO of Group Ten Metals Inc. (PGE:TSX.V; PGEZF:OTCQB; 5D32:FSE), which is known for platinum, palladium, nickel, copper and cobalt in the Stillwater district in Montana.
Reader should note, Group Ten Metals is on hot streak as far as quantity and quality news flow! The company continues to deliver exciting results and information from the target areas identified at the 25-km flagship Stillwater West Project. And what we are seeing is not just mineralization, but rather, high-grade mineralization. The team must be eagerly anticipating the upcoming exploration season. We just featured Group Ten Metals on our program on the 20th of April and we invite you visit that discussion on our website provenandprobable.com.
Mr. Rowley, sorry if I stole some of your thunder, but I'm quite impressed with the progress your team has and continues to make on the behalf of shareholders. The company released a press release on May 7 regarding high-grade mineralization results from the Iron Mountain target. Before you take us there, for first time listeners please introduce us to the Stillwater West Project and the opportunity it presents for shareholders.
Michael Rowley: Thank you, Maurice, glad to be back. The enthusiasm is appreciated, and we share it. We are indeed on a hot streak, and Stillwater West is driving that.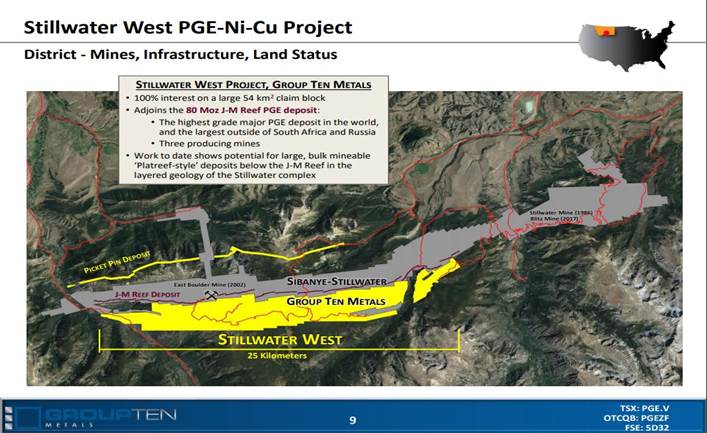 Group Ten is the one of two companies that are active in the Stillwater Complex in Montana. The other one is Sibanye-Stillwater, a company that was created when South African gold miner Sibanye bought Stillwater Mining in 2017 for $2.2 billion. That company operates three mines on one deposit—called the Johns-Manville or J-M Reef deposit—and it is the highest-grade PGE deposit in the world, and one of the largest, hosting 80 million ounces of platinum and palladium at over 16 grams per tonne grade. If you think about that for a minute, we get excited when gold deposits have 10 million ounces at a couple of grams per tonne. The J-M Reef deposit is eight times that size and also eight times that grade. And it is open for expansion. It is a truly fantastic deposit, and it speaks to the amount of metal that is in the layered magmatic system at Stillwater.
Group Ten has a very large land position that adjoins Sibanye-Stillwater across about 25 kilometers and covers the lower portion of the Stillwater Complex, and we also have claims above there in the layered geology.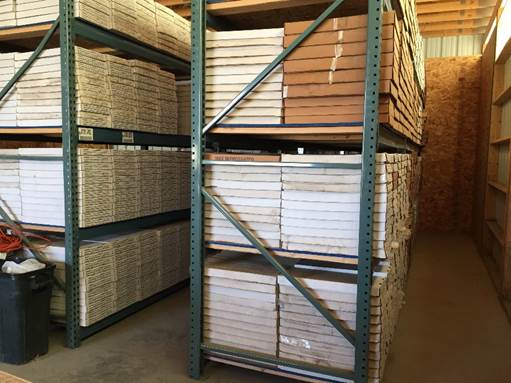 In addition to the land position, we have also compiled a terrific database including about 12,000 meters of physical core, plus geochemical and geophysical surveys, and have attracted a world-class team that is familiar with new geologic models developed at the Platreef in South Africa, which is a similar layered magmatic complex.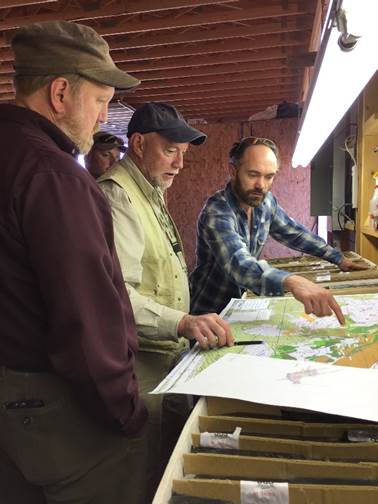 We have now completed the initial phase of data compilation and modeling work on the priority target areas and have issued a series of news releases on those results. Everything we have done to date, including our compilation and modeling work and our 2018 programs on the ground, confirms the potential for multiple large and very large polymetallic platinum, palladium, nickel, copper and cobalt deposits at Stillwater. We are calling these " Platreef-style" deposits based on the similarities we see with the Platreef District in South Africa, which has become a world leader in the supply of low-cost platinum, palladium, nickel and copper supply since the 1990s with the development of Anglo American's Mogalakwena PGE-Ni-Cu Mine, and Ivanhoe's Platreef PGE-Ni-Cu Mine that is now under construction. These are truly massive mines, and they occur in the lower part of layered magmatic systems.
That same portion of the Stillwater Complex has never been systematically tested for deposits of this type, even though the geological parallels are well known, the setting is correct, and every indication is there in the database, including drill results. That exploration process was basically interrupted at Stillwater.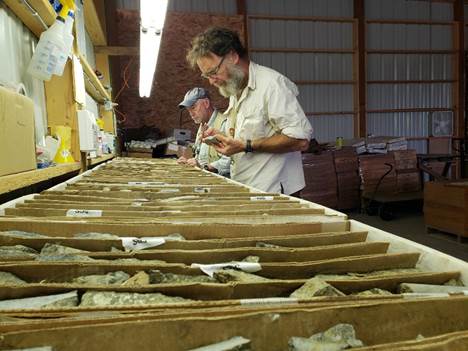 We took a big step forward in 2018 when Dr David Broughton, a key member of the discovery team at Ivanhoe's Platreef project, joined our team and confirmed that potential at Stillwater West.
Maurice Jackson: Mr. Rowley, before we delve into the press release, can share the successes that Group Ten Metals has delivered thus far from the 2018 drill targets?

Michael Rowley: The whole project has been a success from day 1 in the summer of 2017. It just keeps unfolding and offering more and more. At this point we are in the middle of a series of news releases to reveal what we have found to date and lay out our priority targets and plans for 2019. This is a massive project with a large database, so we started on the west and have been working to the east, focusing on eight large target areas that have the potential to host "Platreef-style" deposits in the lower Stillwater Complex.
Maurice Jackson: You and I had an offline discussion prior to the interview and you referenced that Group Ten Metals has the 3 G's. What are the 3 G's and does Group Metals have the 3 G's?
Michael Rowley: Geologists get excited when the "3 G's"—geophysics, geochemistry, and geology—correlate, and that is basically how we developed those eight target areas. In each target we see kilometer-scale geophysical anomalies (i.e., areas of highly conductive rocks) that correlate with large areas of high levels of metals in soils. And, where we have data, we see rock and drill data confirming that the conductive anomalies are indeed targeting copper and nickel sulphide mineralization.
Three of the eight target areas have a substantial amount of past drilling and are priorities for follow-up work in 2019: the Chrome Mountain, Camp Zone and Iron Mountain target areas. We'll discuss Iron Mountain and the current news release in a minute, but the successes at Chrome Mountain and Camp Zone center on known mineralized zones that are open for expansion in terms of both grade and size based on our data compilation and targeting work. We see the potential to quickly advance known mineralization to resource delineation stage at both areas.
Maurice Jackson: Michael, take us now to the Iron Mountain Target, which just released some exciting high-grade polymetallic results. I want to begin with some historical context. What did we know about the target area prior to drilling?
Michael Rowley: Well, we knew that the Iron Mountain target area was the most advanced at Stillwater West. We knew it was mined historically for high-grade nickel, copper and other commodities, like other parts of the Stillwater West project. And we knew it had excellent coverage by soil geochemistry studies. Our early compilation work showed a 2.9-kilometer-wide conductive high anomaly in geophysical survey results, which is the correct size of footprint for a Platreef-style deposit. It also has the biggest drill database, which provides a great deal of valuable information to guide our drill programs.
Maurice Jackson: Fast forward to last week's press release, please share with us what Group Ten Metals discovered.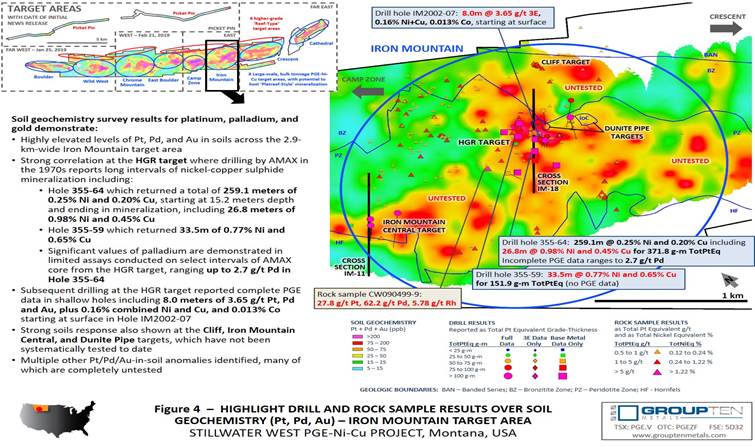 Michael Rowley: This was a pivotal press release for us because it reports Platreef grades for all of our target metals over long intervals in drill holes that are over 100 meters apart. In addition we begin to discuss our plans to drill at Stillwater, including the potential we see to advance some of the more advanced areas quickly to resource delineation stage.
The results of our compilation work, combined with our 2018 work program, surprised us. We knew the area had good grades in drill results, but the proximity and orientation of these hits in relation to each other, and to the geophysical and soil anomalies, was an eye-opener. The HGR target in particular delivered true, Platreef-grade mineralization over long intervals, in multiple holes within an area of 750m x 400m that is open for expansion towards an untested conductive high to the east and along a magmatic layer with known very high-grade samples to the west.
We have a number of holes drilled in the 1970s by AMAX that targeted nickel and copper sulphides in the basal zone. These holes were often about 250 meters long but were not systematically assayed for PGEs or other minerals. And then we have holes drilled in the 2000s that were shallow, often less than 100 meters, but include complete assay data for all elements. We are the first to model these results from different eras together, and bring geophysics and geochemistry into the same systematic targeting process.
One of the best holes is IM2002-07, which returned 8 meters of 3.65 g/t Pt+Pd+Au starting at surface, plus 0.16% combined nickel and copper, and significant cobalt. That grade is directly comparable to grades now being mined in South Africa.
Then consider the fact that that drill hole was drilled about 60 meters away from a 1970s hole, 355-62, that returned 221 meters of similar, actually slightly higher combined nickel and copper grade at 0.19%, but with no PGE data.
And there are two more excellent holes from the 1970s about 150 meters away that also show potentially minable nickel and copper grades, again without PGE data: 33.5 meters of 0.77% Ni and 0.65% Cu in hole 355-59, and then in 355-64 we have 26.8 meters at 0.98% Ni and 0.45% Cu within a broader interval that returned a whopping 259.1 meters grading 0.25% Ni and 0.20% Cu starting at 15.2 meters depth, and ending in mineralization.
That second hole, number 355-64, is particularly interesting because we have some limited palladium data that reports 2.7g /t in that higher-grade interval. This could easily be 4 g/t total PGE, based on ratio of platinum to palladium that we see elsewhere in the area.
These results tell us that there is a lot of metal in this system, and that the conductive high anomalies are successfully targeting nickel and copper sulphide mineralization that is enriched in PGEs and cobalt. At HGR, the past results are potentially minable "as is," even before testing the conductive high to the east, or the area of a grab sample which returned 3 opt of PGE to the west.
These are priority targets for drilling, and we are now working up our plans in that regard. Did the results meet or exceed the company's expectations?
These results exceeded our expectation, and set the stage for very exciting exploration programs in 2019 as we work to bring known grades together with the size potential that we see in these results.
Maurice Jackson: Sir, what is the next unanswered question for Group Ten Metals, when should expect results, and what determines success?
Michael Rowley: Results of continued work on other target areas will be ongoing, but perhaps more importantly we are now finalizing our priority targets and planning drill programs, and will be releasing details on those in the coming weeks. These are big targets, and we have a terrific base to build upon. I think it will be an exciting year.
Maurice Jackson: Switching gears, Mr. Rowley, what would you like to say to current and prospective shareholders regarding the value proposition of Group Ten Metals juxtaposed to the current share price?
Michael Rowley: I have a three-part answer to that question.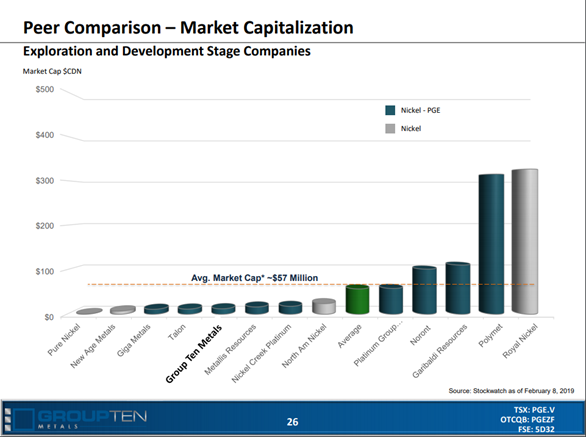 First, junior mining stocks present a great value opportunity these days because we are really undervalued relative to our target commodities and a number of other metrics. Group Ten's market cap is about $8 million at present, and yet we have great assets in three truly world-class districts. That is most apparent at Stillwater where we are sharing very rare geology and a famously metal-rich district with an asset that is valued at nearly $3 billion.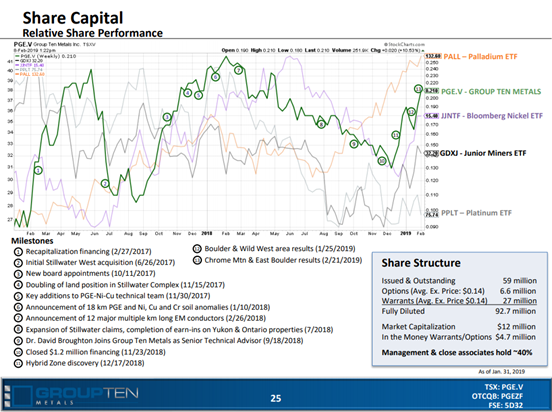 Another important consideration concerning Group Ten's value is the fact that we are focused on an American asset at a time when the U.S. is recognizing a need to secure supplies of strategic and critical metals within its borders. We saw this in the past week regarding energy metals and in the past year with a broader list that included PGEs. The Stillwater district has some of the absolute best geology in the world for a number of the commodities listed, including nickel, cobalt, platinum, and palladium, and we are right there beside three active mines.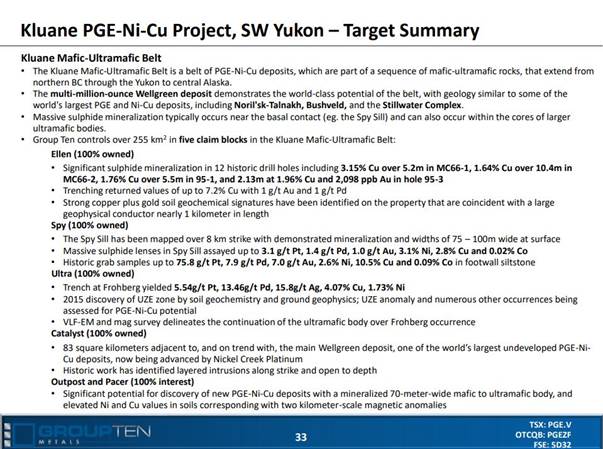 And the last consideration is that we have some assets that we aren't getting much value for in the market, and we have been clear that we are working to monetize those in order to focus on advancing Stillwater West. For example, we recently announced the signing of an LOI towards the sale of one of our Yukon assets, the Ultra project, where we receive cash, shares and exploration work. We have interest in our other non-core assets as well, and are following up on that. And, projects aside, we have about $2.5 million in warrants that are in the money. These are callable, and we have seen a number of exercises recently, which provides us with cash to keep the pre-season machine turning.
Maurice Jackson: Last question, sir, what did I forget to ask?
Michael Rowley: Well, let's touch on The Metallic Group for a minute, as Group Ten is one of three growth-stage exploration companies that share an office and follow the same philosophy. All three companies consolidated high-quality projects in high-grade brownfields districts through the bear market cycle and are now applying bigger and more modern geologic models to those assets. Metallic Minerals sees potential for billion-ounce silver deposits by applying Couer d'Elene thinking to the Yukon's iconic Keno Silver District. And our newest company, Granite Creek Copper, has consolidated the Stu copper-gold property in the Yukon to apply models developed at the neighboring projects.
All three companies have been strategically founded around great assets by experienced teams, and are very well positioned to add real value this exploration season and beyond.
Maurice Jackson: For information on The Metallic Group of Companies, please visit its website (here).
For readers who want to get more information on Group Ten Metals, the website address is www.grouptenmetals.com. And as a reminder Group Ten Metals trades on the TSX-V: PGE and on the OTCQB: PGEZF. For direct inquiries please contact Chris Ackerman at 604-357-4790 ext. 1 and he may also be reached at [email protected].
As a reminder, Group Ten Metals is a sponsor and we are proud shareholders for the virtues conveyed in to today's interview.
Finally, please visit our website provenandprobable.com, where we provide mining insights and bullion sales, you may reach at [email protected]
Michael Rowley of Group Ten Metals, thank you for joining us today on Proven and Probable.
Maurice Jackson is the founder of Proven and Probable, a site that aims to enrich its subscribers through education in precious metals and junior mining companies that will enrich the world.
[NLINSERT]
Disclosure:
1) Maurice Jackson: I, or members of my immediate household or family, own shares of the following companies mentioned in this article: Group Ten Metals. I personally am, or members of my immediate household or family are, paid by the following companies mentioned in this article: None. My company has a financial relationship with the following companies mentioned in this article: Group Ten Metals is a sponsor of Proven and Probable. Proven and Probable disclosures are listed below.
2) The following companies mentioned in this article are billboard sponsors of Streetwise Reports: Group Ten Metals, Metallic Minerals and Granite Creek Copper. Click here for important disclosures about sponsor fees. As of the date of this article, an affiliate of Streetwise Reports has a consulting relationship with Group Ten Metals. Please click here for more information.
3) Statements and opinions expressed are the opinions of the author and not of Streetwise Reports or its officers. The author is wholly responsible for the validity of the statements. The author was not paid by Streetwise Reports for this article. Streetwise Reports was not paid by the author to publish or syndicate this article. The information provided above is for informational purposes only and is not a recommendation to buy or sell any security. Streetwise Reports requires contributing authors to disclose any shareholdings in, or economic relationships with, companies that they write about. Streetwise Reports relies upon the authors to accurately provide this information and Streetwise Reports has no means of verifying its accuracy.
4) This article does not constitute investment advice. Each reader is encouraged to consult with his or her individual financial professional and any action a reader takes as a result of information presented here is his or her own responsibility. By opening this page, each reader accepts and agrees to Streetwise Reports' terms of use and full legal disclaimer. This article is not a solicitation for investment. Streetwise Reports does not render general or specific investment advice and the information on Streetwise Reports should not be considered a recommendation to buy or sell any security. Streetwise Reports does not endorse or recommend the business, products, services or securities of any company mentioned on Streetwise Reports.
5) From time to time, Streetwise Reports LLC and its directors, officers, employees or members of their families, as well as persons interviewed for articles and interviews on the site, may have a long or short position in securities mentioned. Directors, officers, employees or members of their immediate families are prohibited from making purchases and/or sales of those securities in the open market or otherwise from the time of the interview or the decision to write an article until three business days after the publication of the interview or article. The foregoing prohibition does not apply to articles that in substance only restate previously published company releases. As of the date of this article, officers and/or employees of Streetwise Reports LLC (including members of their household) own shares of Group Ten Metals, Metallic Minerals and Granite Creek Copper, companies mentioned in this article.
Proven and Probable LLC receives financial compensation from its sponsors. The compensation is used is to fund both sponsor-specific activities and general report activities, website, and general and administrative costs. Sponsor-specific activities may include aggregating content and publishing that content on the Proven and Probable website, creating and maintaining company landing pages, interviewing key management, posting a banner/billboard, and/or issuing press releases. The fees also cover the costs for Proven and Probable to publish sector-specific information on our site, and also to create content by interviewing experts in the sector. Monthly sponsorship fees range from $1,000 to $4,000 per month. Proven and Probable LLC does accept stock for payment of sponsorship fees. Sponsor pages may be considered advertising for the purposes of 18 U.S.C. 1734.
The Information presented in Proven and Probable is provided for educational and informational purposes only, without any express or implied warranty of any kind, including warranties of accuracy, completeness, or fitness for any particular purpose. The Information contained in or provided from or through this forum is not intended to be and does not constitute financial advice, investment advice, trading advice or any other advice. The Information on this forum and provided from or through this forum is general in nature and is not specific to you the User or anyone else. You should not make any decision, financial, investments, trading or otherwise, based on any of the information presented on this forum without undertaking independent due diligence and consultation with a professional broker or competent financial advisor. You understand that you are using any and all Information available on or through this forum at your own risk.
Images provided by the author.