Ames Tribune, Laura Millsaps
The makers of the popular NOVA television series "Making Stuff" are making some more of their own stuff—a two-hour special on the elements.
"Making Stuff" Creator and Producer Chris Schmidt is leading the new project. He said he looks at it as a follow-up to the series, which took the viewer through the concepts of materials science and the products and technologies that build the world.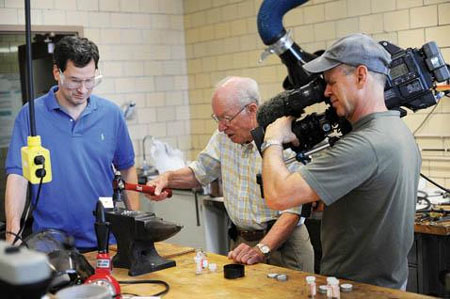 Friday, the NOVA crew was filming footage about the rare earth elements (REEs), and for that, Ames Laboratory was the place to be. The DOE facility operated by Iowa State University has an international reputation for refining and experimentation with REEs.
For Series Host and
New York Times
Technology Columnist David Pogue, the subject matter is never simply lines delivered to the camera or on a printed page. He said he really does exhibit a perpetual curiosity for science and technology.
"I've been doing some kind of explaining of science and tech to people for years, through my columns and books, and I function as a stand-in for the audience," Pogue said. "I ask the same questions they would ask, find the answers and explain them in an understandable way. A lot of what I do is rephrasing, recasting the information in simpler terms." And with visual, often-comic demonstrations that bring the subject matter home.
"When David stood on wine glasses, as in 'Making Stuff: Stronger,' it demonstrated to the viewer in an understandable way the concept of compressive strength," Schmidt said.
In the same way, Schmidt said the production crew is planning for a sight gag to explain the difficulties of extracting REEs from raw ore.
As the project is still being filmed, there's no set airing schedule for the project.