The Gold Report: What is your view of the silver market, and how do you think silver is going to perform under the Trump administration?
George Paspalas: The fundamentals for silver have been strong for quite a while. A lot of the new technologies, things like electronics and nanotechnology, have big silver demand.
I think both precious metals, silver and gold, will do well in the Trump era. The honeymoon's probably coming to an end, and we're going to start to see some real traction on both gold and silver. But fundamentally silver has a bigger component of commodity consumption than gold has. As gold gets stronger, people turn to silver as a more affordable store of wealth and risk protection. I think the silver market is strong, and in the biotech as well as the technology sectors consumption in silver will increase.
A lot of silver is produced from byproducts, particularly from zinc mines. Some of the big zinc mines that have produced a lot of silver have been shut down. The zinc price has risen substantially in the last six to eight months due to these closures.
So there's this demand/supply dynamic going on with silver where I do believe it's going to outperform gold. However, I think both precious metals will do well in the coming few years.
TGR: MAG Silver Corp. (MAG:TSX; MAG:NYSE.MKT) has the Juanicipio joint venture (JV) with Fresnillo Plc (FRES:LSE) in the Fresnillo Trend in Mexico. Can you tell us about the history of this trend?
GP: Silver was mined there in 1552, over 500 years ago; Cerro Proaño, a large deposit that made a big V cut into a hill, is now the symbol of Fresnillo Plc. Fresnillo itself has been mining in this area for over 130 years. The Fresnillo Trend now is probably the preeminent silver district in the world; 4.2 billion ounces have been mined there to date. One of every 10 ounces of silver on the planet comes from the Fresnillo Trend.
And more important than looking in the rear-view mirror, there are a couple of billion ounces in front of it. We are continuing to discover ounces on the joint venture ground. I'm sure Fresnillo is doing the same on its ground.
This is an epithermal vein trend; there are a lot of them around the world. They're typically similar to what we see in Fresnillo: 4, 6, 10 meters (4, 6, 10m) wide; 300, 400m high. But in a lot of the areas of the world they have a strike length, a run-through distance of 100m to a couple of hundred meters.
What makes Fresnillo different is the consistency of the lateral ore chutes and that they run for kilometers. The San Carlos vein, which underpins Fresnillo Plc, is 6.5 kilometers (6.5km) long. Our vein on the JV ground is 1.2km long, and it goes across the boundary and runs for a number of kilometers on the other side where Fresnillo has its Saucito operations. So it's this unique length and consistency of mineralization that really endows this area. The Fresnillo Trend has probably now eclipsed Cerro Rico in Peru as the largest silver district, but it's what it has in front of it that makes the Fresnillo Trend and district so remarkable.
We'll talk a little later about the recent discovery that we've had, but there are many indications that for both Fresnillo and ourselves, there are going to be a lot more ounces of silver found here.
TGR: Can you tell us how the Juanicipio JV project is going? You're been working on the decline. What's the timeline?
GP: It's going really well. The vein itself is a little bit deeper than what is typical of the area, so it's taken us three and a bit years to access it. But in December we reached the top of the vein.
And we have a photo of our chief exploration officer, Dr. Peter Megaw, the fellow who found the deposit, actually kissing the top of the vein (see below). That's been a great moment for him because we had the discovery on hole number 001. Our very first hole that we drilled into the ground discovered the Juanicipio vein, and then he's down there with the sister vein, Valdecañas, and kissing it there before Christmas. So Santa came early for him.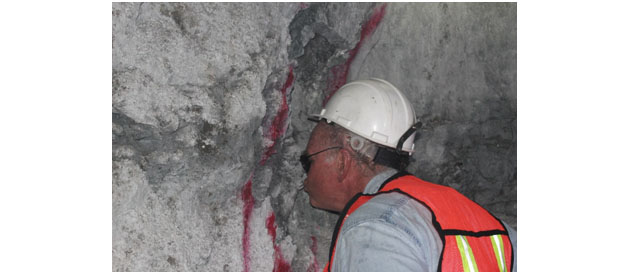 We're now getting ready to mine the Bonanza zone of the Valdecañas vein. There is about another year of development work, dropping down and getting all the faces set up and ready to go. We anticipate making a decision to move ahead on building the surface facilities in the next few months. And then that will see the project on track to come on line probably late 2018, early 2019.
If we build the project that we currently have on file in a technical report, we're comfortably fully funded for our share of that.
TGR: How large of a deposit is the Bonanza zone?
GP: On chart 1 below, the data is in column pairs. The column on the left is the pure silver, and the equivalent grade is on the right. Equivalent means you're adding in the lead and the zinc and, in this particular case, the gold. You can see our just silver-only grade is better than the rest of the world's equivalent grade.
Have a look just to the right of the MAG graph to the mines operated by Fresnillo Plc, Saucito and Fresnillo, and you can see that Juanicipio has an even higher grade than those.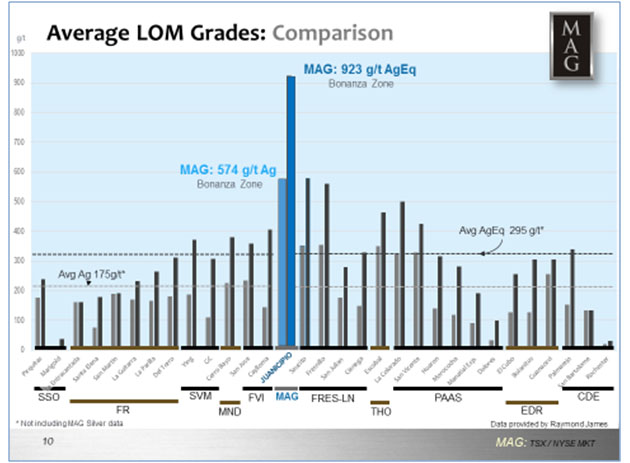 Chart 1
Chart 1 shows that we have an incredible asset in terms of its richness (grade), which gives it very good economics. The geology stands out as well. We get good metallurgical recoveries, and the vein is pretty steep so it can be mined at low cost.
TGR: Can you take advantage of Fresnillo's expertise because it is mining in the region?
GP: Yes, that is the other part of the equation—that Fresnillo, the operator, is there.
On chart 2, that red line running across the green, the JV ground—the blue is JV, too, but the green is where we have the surface rights—it runs across the boundary, and then you can see Saucito. Fresnillo is going to build another plant like the two plants at Saucito for the joint venture. It's the third plant it has built on the same vein. So not only is it at very high value, it's also at the lower end of an execution risk profile.
The MAG story is this: We have arguably one of the best assets on the planet, which is being built and will be operated by probably the best people on the planet.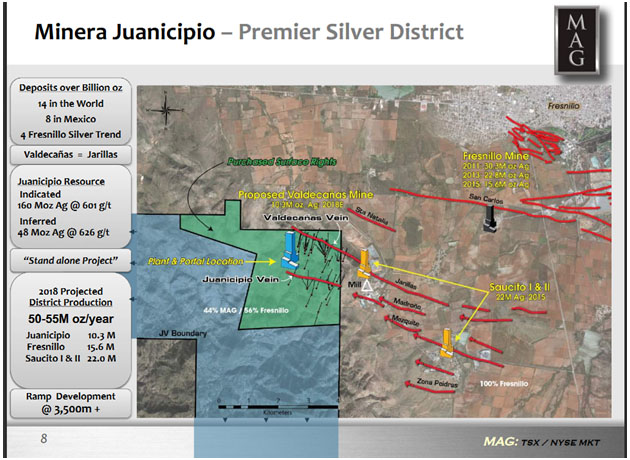 Chart 2
TGR: Tell us about your drilling below the Valdecañas vein.
GP: To say it's been successful is an understatement. On chart 3, the blue, which we identify as the Bonanza zone, is the resource in the current preliminary economic assessment. That is the Juanicipio project that everybody knows. And it is one of the highest-grade undeveloped silver properties in the world.

Chart 3
At the end of the 2014 we thought we would put a few holes under this just to make sure it is behaving like every other vein in the Fresnillo area, which closes off and has no mineralization underneath it. So we drilled four holes, P1 to P4 in the elongated ellipse, and we were wrong. Mineralization does continue and at surprisingly high grades. And perhaps more significantly, it's much wider. We released that information in April 2015.
We had follow-up, stage 2 drilling, which is all those other holes you can see around there, and we released that in August 2016. That drilling showed not only is this mineralization below one of the best deposits in the world and it continues, but it's getting thicker.
And it's now extending along the whole length, and that's very important because visible on chart 4 is the red ramp at the top coming down. It has now hit the top of the Bonanza zone, and we're planning to move forward and construct the surface process plant as the next stage of progression for the project.

Chart 4
Fresnillo and MAG decided to rethink the project concept because it's apparent that this Bonanza zone isn't all that we have. At depth there is something that's unique.
So we're now considering how to incorporate this deep material into the mine plan. If we just mine the Bonanza zone, we have 15 years of mine life. When we press released the discovery, people said, "Awesome holes, great grades, incredible wide intercepts, but the problem is you're not going to mine it for 20 years." But that may not be the case.
We're working on engineering concepts to possibly bring some of that forward. Watch the space because as exciting as this project is, it might get even more exciting.
TGR: By bringing it forward, do you mean that you would mine both deposits at the same time, getting the ramp down deep quickly?
GP: That is one of the options. Not straightaway, but somewhere let's say in the next 7 to 10 years, we could be mining both of those together, which would really enhance the economics. And so that's what the deep drilling has realized.
TGR: Wouldn't the capex be sky-high to mine something so deep?
GP: I've been doing this for 30-odd years. I've never seen anything like it. The ramp that we're putting down is going to continue. The cost of that is almost insignificant. All of the infrastructure we've built to get down to the Bonanza zone will be not capitally sunk, but it'll be used for the deeper stuff. The financing of this deeper zone is going to be of an incremental nature rather than some huge capex.
Going back to Chart 4, the story gets better. We found another vein, that blue vein, which Fresnillo named Anticipada in anticipation of a new vein. It has panned out that in all likelihood we have another vein there, 100m away from where we're going to be mining.
On Chart 5, the blue is the Bonanza zone, and that's about 6m wide. The red is this dilatant zone. Think of the blue as a little fault in the rock that's 6m wide. It sits on an angle, and where it's red, it's steepened up. What's happened is the earth has pulled the walls of that fault apart. It goes out to 30m, and that's the dilatant zone. The geologists call it dilatant; I call it a thick zone, but they like to use the technical word.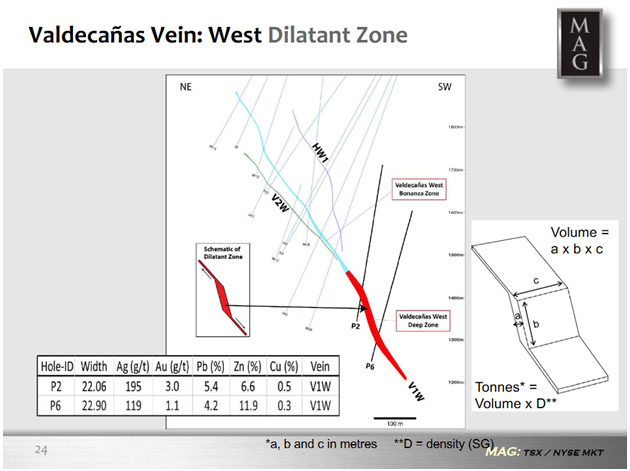 Chart 5
What makes this unique is all this happened in a short period of time when there was a big molten pool of metals below it and there was some tectonic activity. Fluids in solution shot up and mineralized this 30m wide structure.
The ramp is up at the top of the blue now. It's going to continue to come down.
Chart 6 shows the other half of the vein. In the line marked VANT we are developing some consistency in the drilling, which is running good grades and showing good width. It's early days; we don't know how big that's going to grow to. It's 100m in the hanging wall. It's one month of development to access it from where we will be mining at Valdecañas.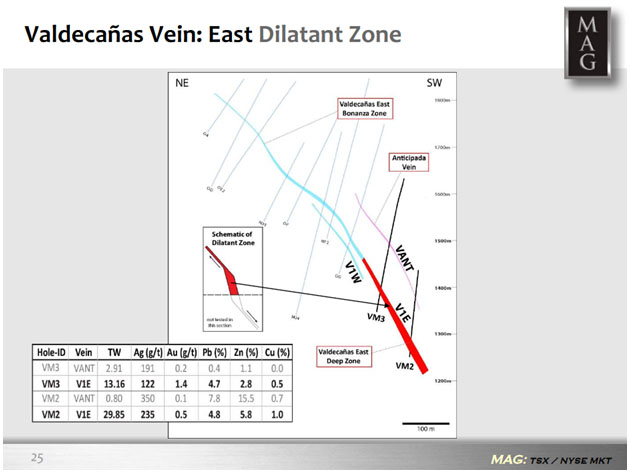 Chart 6
Don't be surprised if the mining costs in this deeper level are lower than above it. It's 30m wide, not 6m wide, so we can really get into some bulk mining techniques. For every meter that you have to descend, it costs X amount of dollars, but you're getting five times the amount of mineralization.
We call it deep, but it's only 1km down. Fresnillo operates mines at that depth regularly. Lots of people do in Mexico.
The Bonanza zone is an incredible story in its own right, and to find something underneath it like this is truly amazing. And we don't know the end of it yet. We just got some assays in from the third round of drilling, and released those numbers on Feb. 14, 2017. No better place to find a new ore body than under the one that you're going to be mining.
TGR: Are you exploring other areas outside the JV?
GP: If you go back to Chart 2, the very first hole we drilled, hole 1, was the discovery hole into the Juanicipio vein.
Hole 16, i.e., the 16th hole we drilled on the property, discovered the Valdecañas vein, which is the one at the top there, which is the big one. That contains about 90% of the metal so far.
All these black holes on the chart show the drilling that we've done. Because of the success we've had, all of the exploration drilling has been around these two veins. Then we had the discovery at depth, which is where all the exploration drilling has been the last two years.
When Peter Megaw came on the property in 2003 and we drilled that hole 1 that discovered Juanicipio, he had some other targets, one in particular he felt was as equally prospective. We haven't been able to touch that yet.
In 2003, we had that first discovery. In 2004 and 2005, we needed to raise money to fund exploration. Times were tough, so MAG offered up Fresnillo an earn-in JV. The company earned in; we're very fortunate to have it as the operator. But after working on the JV property a bit, Fresnillo came back to the south and all those red lines on Chart 2, and it found 660 million ounces of silver.
None of those red lines were there in 2003. But you can see how these red lines have arrows heading toward the JV ground. There's a very good chance that one or some of these veins continue under the JV ground. And that's the next phase of exploration for us.
TGR: The arrows mean that they're still open in that direction, right?
GP: Correct. So the odds of having further exploration success on the JV ground are very, very good. The other thing that's important now is Saucito has become the major property for Fresnillo. It appears that the deep discovery we've found under Valdecañas is a major fluid input point. It's a place from where the rocks got the metal. And that means there's the potential to find a few more mineralized structures around Valdecañas. So we're seeing great encouragement now from Fresnillo to drill more of the property.
TGR: Where does MAG go from here?
GP: We will continue to do a little drilling on this deep resource because we want to fully understand the implications of that, but we'll probably really drill that out in detail from underground in the future. We are going to make a decision and build a processing facility for the Valdecañas vein and the Juanicipio vein, so that's going to see us build a mine or processing plant and get into cash flow. We are now at the vein.
Now we will do further exploration on the property. We expect to get cash flow in 2019 and maybe use it to fund more exploration. Once we've worked through the land access issues at Cinco de Mayo we could use some of that cash flow to explore that property in Chihuahua because that's another property that has pretty significant exploration potential. But at the moment, that's going reasonably slow. But our focus has been on the Juanicipio project. Ideally, we will get on Cinco when we have cash flow and we can really fund the exploration there.
TGR: Is there anything else that you'd like to tell our readers?
GP: During 2014 and 2015, equity markets were essentially shut except for a few windows. We got MAG fully funded for our share on two equity raises, one in 2014 and one in 2016, both off what was then 52-week highs. Over the course of 2014 and all of 2015, share prices of a lot of mining companies, and silver mining companies in particular, tanked and went down to multiyear lows. We kept hitting 52-week highs. And our relative share price performance gave us incredibly strong paper.
There were lots of opportunities to go down the mergers and acquisitions (M&A) road and use that strongly valued paper to acquire producing assets and change the nature of the company. We chose not to do that because we believe our shareholders have invested in us because of the quality of the asset. We believe we've shown to the shareholders management discipline in not diluting the value of what we have. You couldn't have done anything that would have added value to MAG like having this discovery at depth at Valdecañas.
We want to replicate that now by having another discovery on the property. We are not going to go and blow up doing M&A transactions that are going to distract management and dilute the value of the incredible asset that we have.
TGR: Thank you for your time.
George Paspalas is the president and CEO of MAG Silver. He previously held chair and executive positions at several international corporations, including Aurizon Mines Ltd., Silver Standard Resources Inc., Sardinia Gold Mining SPA. and Placer Dome Inc., overseeing construction and operations throughout North and South America, Southeast Asia, Africa, Europe and Japan. Paspalas earned a Bachelor of Engineering (Chemical) degree with Honours from the University of New South Wales in 1984 and completed the Advanced Management Programme at INSEAD in France.
Read what other experts are saying about:
Want to read more Gold Report interviews like this? Sign up for our free e-newsletter, and you'll learn when new articles have been published. To see recent interviews with industry analysts and commentators, visit our Streetwise Interviews page.
Disclosure:
1) Patrice Fusillo conducted this interview for Streetwise Reports LLC and provides services to Streetwise Reports as an employee. She owns, or her family owns, shares of the following companies mentioned in this interview: None.
2) MAG Silver Corp. is a sponsor of Streetwise Reports. Streetwise Reports does not accept stock in exchange for its services. Click here for important disclaimers. The information provided above is for informational purposes only and is not a recommendation to buy or sell any security.
3) MAG Silver Corp. had final approval of the content and is wholly responsible for the validity of the statements. Opinions expressed are the opinions of George Paspalas and not of Streetwise Reports or its officers.
4) George Paspalas: I was not paid by Streetwise Reports to participate in this interview. I had the opportunity to review the interview for accuracy as of the date of the interview and am responsible for the content of the interview. I or my family own shares of the following companies mentioned in this interview: MAG Silver Corp.
5) Interviews are edited for clarity. Streetwise Reports does not make editorial comments or change experts' statements without their consent.
6) This interview does not constitute investment advice. Each reader is encouraged to consult with his or her individual financial professional and any action a reader takes as a result of information presented here is his or her own responsibility. By opening this page, each reader accepts and agrees to Streetwise Reports' terms of use and full legal disclaimer. This article is not a solicitation for investment. Streetwise Reports does not render general or specific investment advice and the information on Streetwise Reports should not be considered a recommendation to buy or sell any security. Streetwise Reports does not endorse or recommend the business, products, services or securities of any company mentioned on Streetwise Reports.
7) From time to time, Streetwise Reports LLC and its directors, officers, employees or members of their families, as well as persons interviewed for articles and interviews on the site, may have a long or short position in securities mentioned. Directors, officers, employees or members of their families are prohibited from making purchases and/or sales of those securities in the open market or otherwise during the up-to-four-week interval from the time of the interview until after it publishes.