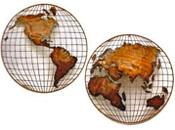 Depleting Supply
A 2005 U.S. Geological Survey reported a total reserve base of 1.6 billion tons or recoverable ore, of which 950 million tons (Mt) was considered economically recoverable. Given current annual world demand of 15 Mt, recoverable copper may be exhausted in slightly more than 60 years. A notable environmental analyst, Lester Brown, has suggested copper reserves may run out within 25 years, assuming a 2% annual growth rate. Of the largest 28 copper mines in the world, 21 are not expandable, many being exhausted by 2015.
Increasing Demand
Global consumption is expected to grow by 1.2%. Refined copper demand reached 20.4 Mt in 2011 compared with global production of 16.1 Mt for the same time period. China's demand accounts for over 22% of global demand and growth expected to slow to 6.6% in 2012.
Resurgence in the Housing Market
Approximately one-third of copper use is attributed to residential building construction. The housing market continues to strengthen with reduced inventories and improving buyer demand. As demand for housing increases, the demand for copper will increase.
Automotive Market
Auto sales are expected to finish 2012 at 14.4M, the highest level since the 16.1M in 2007. In addition, the average car's 11-year lifespan will drive demand.
While demand continues to grow, copper production faces challenges. There are a number of ways to play the potential supply and demand imbalance for copper. . .
Harlan Kessler
Seeking Alpha