Rick Mills, founder, Ahead of the Herd: There has been a general long-term downward trend in the resource sector. Junior resource companies have had the stuffing knocked out of them; many are oversold and ripe for a bounce.
The January Effect is a calendar or seasonal-caused increase in the relative strength of small-cap stocks over large caps in late December and early January. This seasonal effect is mostly over by the end of the first full trading week in January and is not to be confused with the "January Barometer," an old market saw saying, "As goes the full month of January so goes the market for the year."
"Today, nickel sulfide discoveries are as rare as chicken teeth, but North American Nickel Inc. has found an incredible amount of smoke in Greenland and should find fire soon."

The January Effect, as it pertains to the junior resource sector, is caused by both large and small individual investors (and institutional investors window dressing—dumping laggards so they won't show up in year-end reports) selling their stocks/rebalancing their portfolios starting in November and well into December to create a tax loss to offset capital gains.
Smart investors and traders buy select stocks, starting as early as late November, through to the last day, or even a day or two beyond, of eligible tax-loss selling for the year.
An excellent example of a consistent short-term January Effect trade would be Copper Fox Metals Inc. (CUU:TSX.V) recently trading as low as $0.095 and hitting a high of $0.15.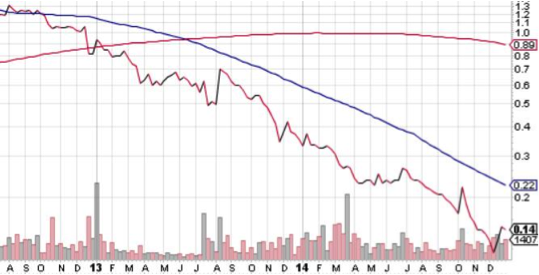 Discovery is reaping shareholders rewards so worth watching is a uranium junior, Lakeland Resources Inc. (LK:TSX.V), exploring in the Athabasca Basin. A great way to leverage any uptick in the uranium price is Uranerz Energy Corp. (URZ:TSX; URZ:NYSE.MKT). [Editor's Note: This interview was conducted on Friday, Jan. 2, 2015. On Monday, Jan. 5, Uranerz announced an all-share buyout by Energy Fuels Inc. (EFR:TSX; EFRFF:OTCQX; UUUU:NYSE.MKT)].
Great Panther Silver Ltd. (GPR:TSX; GPL:NYSE.MKT) is on top of the list of producers that are well positioned to take advantage of an uptick in gold and silver prices. Kootenay Silver Inc. (KTN:TSX.V) discovered and is developing the Promontorio project into an open-pit mine in Sonora, Mexico. The company recently drilled one of many prospects on its immense project and discovered another significant high-grade silver deposit, La Negra.
New Carolin Gold Corp. (LAD:TSX) is an exciting gold project. The company is working old mines in an underexplored area in southwestern British Columbia. Success here could open up a lot of people's minds about junior mining overall.
Diamonds are exciting and could certainly lift the Toronto Stock Exchange out of its funk. Two to watch in the new North Saskatchewan Craton Diamond Play are Strike Diamond Corp. (SRK:TSX.V) and Athabasca Nuclear Corp. (ASC:TSX.V).
Nickel is definitely a metal to have on your radar screen. Today nickel sulfide discoveries are as rare as chicken teeth, but North American Nickel Inc. (NAN:TSX.V) has found an incredible amount of smoke in Greenland and should find fire soon. Meanwhile in Canada, Equitas Resources Corp. (EQT:TSX.V; T6U1:FSE) is just getting going. It has a large prospective for nickel property in the right type of rock in the right place.
In the copper space the low-hanging fruit has been picked but VMS Ventures Inc. (VMS:TSX.V) is a junior producer that owns 30% of the now producing high-grade Reed copper mine. Carmax Mining Corp. (CXM:TSX.V) has an exciting copper-gold project, the Eaglehead, in northwest British Columbia.
Cobalt is a critical metal with no production in North America. Global Cobalt Corp. (GCO:TSX.V) is working on a project in northwestern Ontario and has recently acquired a project in the U.S. Global Cobalt could be instrumental in meeting a growing demand.
I believe in commodities. If you do as well, then all these companies are worth putting on your radar screen.
Steve Palmer, founding partner, president and chief investment officer of AlphaNorth Asset Management: December, January and February are historically the best performing months of the year. There is no reason to believe the current situation will be any different. The TSX Venture index has been under severe pressure over the past few months, which has taken it down 30+% since August. It has recently been below the lows of the 2008 financial crisis despite an economic environment that is far better. I believe the current risk/reward is highly skewed to the upside for the TSX.V.
Several resource names that could rally nicely are Blackbird Energy Inc. (BBI:TSX.V), Sintana Energy Inc. (SNN:TSX.V), Talon Metals Corp. (TLO:TSX), and U3O8 Corp. (UWE:TSX; UWEFF:OTCQX).
Angelo Damaskos, founder and CEO of Sector Investment Managers Ltd.: We generally do not trade short-term technical volatility in markets but prefer to focus on fundamental value that is likely to be rerated over the medium term. Nevertheless, given the extreme selling conditions we have experienced in the last four months of 2014 in the energy space, there is a higher probability of a sharp rebound early in 2015. Historical review of previous corrections before the year-end in oil-related shares shows a seasonal pattern of recovery in the first quarter of the following year: The winter double-bottom pattern was observed in 2008–2009, 2006–2007, 2001–2002, 1998–1999, and 1993–1994.
We, therefore, advise our clients to increase their allocations to mid-cap oil producers for three reasons:
1. Extreme adversity against oil shares has led to solid companies trading at Price/Cash Flow and Price/Net Asset Value multiples last seen in the 2008 meltdown;
2. Bearish calls for the oil price dropping below $50/barrel ($50/bbl) are widespread; a contrarian investment view would support a rebound to above $60/bbl. Fundamentally, it is widely accepted that oil prices at $60/bbl are extremely damaging to supply from marginal fields and prolonged trading at this level would result in a lot of supply shut-ins, thus removing any supply overhang within 6–12 months; markets are likely to discount such change in supply with a 3–6 month lead;
3. Large short-selling interest built up in the months of November and December that may be closed on first signs of rebound—mid-cap shares are likely to respond first, followed by small caps after a sustained rally.
We believe, nevertheless, that investments should be focused on companies with strong production growth even at lower oil prices based on sustainable capital expenditure programs (primarily funded out of organic cash flow), lower average cost of production contributing to profits at current prices and strong balance sheets with low debt and fixed obligations. Examples of such companies include RMP Energy Inc. (RMP:TSX), Advantage Oil and Gas Ltd. (AAV:TSX; AAV:NYSE) and Parex Resources Inc. (PXT:TSX.V).
We are generally cautious/bearish on the overall markets as we feel global economic growth is likely to slow, impacting earnings expectations. Central banks of both developed and emerging economies may raise interest rates, thus further slowing growth and negatively impacting equity valuations. Resources sectors have been sold off hard, so it is unlikely they would suffer further in correlation to a general market correction.
Look for an article about the January Effect on precious metals in The Gold Report on Wednesday, Jan. 7.
Read what other experts are saying about:
Want to read more Mining Report articles like this? Sign up for our free e-newsletter, and you'll learn when new articles have been published. To see recent interviews with industry analysts and commentators, visit The Mining Report home page.
DISCLOSURE:
1) JT Long conducted this interview for Streetwise Reports LLC, publisher of The Gold Report, The Energy Report, The Life Sciences Report and The Mining Report, and provides services to Streetwise Reports as an employee. She owns, or her family owns, shares of the following companies mentioned in this interview: None.
2) The following companies mentioned in the interview are sponsors of Streetwise Reports: Uranerz Energy Corp., Energy Fuels Inc., Great Panther Silver Ltd. and North American Nickel Inc. The companies mentioned in this interview were not involved in any aspect of the interview preparation or post-interview editing so the expert could speak independently about the sector. Streetwise Reports does not accept stock in exchange for its services.
3) Rick Mills: I own, or my family owns, shares of the following companies mentioned in this interview: New Carolin Gold Corp. I personally am, or my family is, paid by the following companies mentioned in this interview: None. My company has a financial relationship with the following companies mentioned in this interview: Great Panther Silver Ltd., Kootenay Silver Inc., New Carolin Gold Corp., Equitas Resources Corp., Lakeland Resources Inc., Carmax Mining Corp., VMS Resources Inc. and Global Cobalt Corp. I was not paid by Streetwise Reports for participating in this interview. Comments and opinions expressed are my own comments and opinions. I determined and had final say over which companies would be included in the interview based on my research, understanding of the sector and interview theme. I had the opportunity to review the interview for accuracy as of the date of the interview and am responsible for the content of the interview.
4) Steve Palmer: I own, or my family owns, shares of the following companies mentioned in this interview: None. I personally am, or my family is, paid by the following companies mentioned in this interview: None. AlphaNorth Funds own all of the companies mentioned. I was not paid by Streetwise Reports for participating in this interview. Comments and opinions expressed are my own comments and opinions. I determined and had final say over which companies would be included in the interview based on my research, understanding of the sector and interview theme. I had the opportunity to review the interview for accuracy as of the date of the interview and am responsible for the content of the interview.
5) Angelo Damaskos: I own, or my family owns, shares of the following companies mentioned in this interview: None. I personally am, or my family is, paid by the following companies mentioned in this interview: None. Funds I advise hold shares in RMP Energy Inc., Advantage Oil and Gas Ltd. and Parex Resources Inc. I was not paid by Streetwise Reports for participating in this interview. Comments and opinions expressed are my own comments and opinions. I determined and had final say over which companies would be included in the interview based on my research, understanding of the sector and interview theme. I had the opportunity to review the interview for accuracy as of the date of the interview and am responsible for the content of the interview.
6) Interviews are edited for clarity. Streetwise Reports does not make editorial comments or change experts' statements without their consent.
7) The interview does not constitute investment advice. Each reader is encouraged to consult with his or her individual financial professional and any action a reader takes as a result of information presented here is his or her own responsibility. By opening this page, each reader accepts and agrees to Streetwise Reports' terms of use and full legal disclaimer.
8) From time to time, Streetwise Reports LLC and its directors, officers, employees or members of their families, as well as persons interviewed for articles and interviews on the site, may have a long or short position in securities mentioned. Directors, officers, employees or members of their families are prohibited from making purchases and/or sales of those securities in the open market or otherwise during the up-to-four-week interval from the time of the interview until after it publishes.