The Critical Metals Report: Chris, you have been watching the graphite space for a long time. Prices shot up at the end of 2011 to as much as $2,700/tonne, but have come down since. What is behind this volatility and where could prices go from here?
Chris Berry: We need to remember that graphite is an industrial mineral. As such, it is subject to the vagaries of global growth. We've seen a softening of GDP growth in many countries throughout the world, notably in China. This, more than anything, has pushed graphite prices down. While graphite prices are high by some historical measures, the recent decrease is a welcome sign and adds validity to our long-term super cycle thesis supporting higher commodity prices—though not indefinitely higher and not in a linear fashion.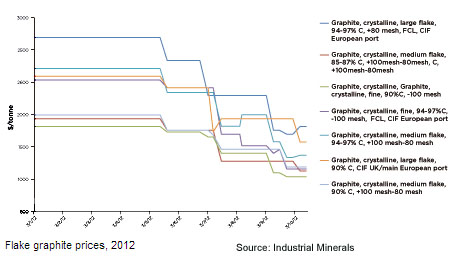 I am reading a book called "The $10 Trillion Dollar Prize" that attempts to predict the size of the consumer market in China and India by 2020. The book states that a Chinese citizen born in 2009 will consume 38 times as many goods as his or her grandparents. In India, a child born in 2009 will consume 13 times as many goods as his or her grandparents. Though this is only a prediction, it is evidence of the long-term super cycle in that those people born today are more cognizant of life's possibilities and will aspire to a higher quality of life—implying steady commodity demand. Graphite is used in roughly 180 different products and its ubiquity is an indication to me that more graphite of all types will be needed on world markets in the future. While graphite prices have fallen, they have not fallen as far or as fast as other commodities such as iron ore or coal.
We believe that the decrease in graphite prices has been overdone somewhat and has bottomed. While the fall in graphite pricing is no doubt due to an uncertain macroeconomic environment, we view this as temporary and still believe that graphite (flake graphite, in particular) is a tight market with room for a small number of new producers in coming years.
TCMR: What role does China play in the graphite market? Is the country's dominance as pronounced as it is in the rare earth market?
CB: China is not as dominant in graphite as it is in rare earths. The main difference is that a downstream supply chain for graphite end products exists outside of China—this is not the case for rare earths. Nonetheless, governments throughout the world have labeled graphite as a critical material because China controls up to 80% of natural graphite production. China's role as a global engine of growth, commodity demand and commodity supply can't be understated. China's consolidation of amorphous graphite mines (from 230 down to 20, according to Industrial Minerals) in the name of minimizing environmental impact will no doubt curtail amorphous supply, with the goal of ensuring domestic resources serve domestic needs first and international needs second.
TCMR: What if rumors of China's growth curve taking a dive are correct? What will that mean for graphite prices?
CB: We are acutely aware that the Chinese growth engine is slowing (as measured by declining GDP) and are of the opinion that the looming supply consolidation within China outweighs any softening of demand in the near term.
It is important to remember that a commodity like graphite has multiple avenues of demand. This is one of the reasons we like it so much. With the forecast growth in next-generation technologies (batteries) underpinned by steady demand from current day uses (steel) and sweeping consolidation among the largest global producer of graphite, we would submit graphite is a sound investment over the long term.
TCMR: It looks like there is a lot of competition in the space. Your junior mining graphite index shows 69 companies managing 150 projects in 13 countries. How many can be profitable?
CB: It is much too early to tell how many can be profitable. Of those 69 companies, only six have NI 43-101- or JORC-compliant resource estimates. Of those six, only two have any sort of advanced study completed, such as a preliminary economic assessment, and only one has a bankable feasibility study completed. We would need to know much more about the size and composition of a company's deposit and the potential economics before we undertake a valuation exercise and start making estimates of profitability.
A graphite company will only be profitable if it has agreements with end users to sell its product to. It's important to remember that the graphite business is one that rests on long-term relationships where end users and graphite producers negotiate price based on a specific end product. It could take time for junior companies breaking into the graphite market to establish these relationships. I think this will be a challenging hurdle for any graphite junior exploration company to navigate—though not insurmountable.
With respect to the index, on an equal-weighted basis, its overall returns have increased by 49.8% year to date. Much of these gains have come from the "bubble" in graphite exploration interest earlier this year. The index is actually down by -7.59% over the last six months. The market cap-weighted returns don't differ that much from the equal-weighted returns, and this tells us that the companies with the largest market capitalizations are responsible for much of the price movement in the index.
TCMR: What are some of the companies that you think are well positioned in this space?
CB: We see Northern Graphite Corporation (NGC:TSX.V; NGPHF:OTCQX) as a survivor and leader in this industry. Last week the company submitted its mine closure plan to the Ontario Ministry of Northern Development and Mines. If the ministry accepts the plan before year-end, Northern Graphite can begin construction at Bissett Creek, subject to a financing with the goal of a mid-2014 production date.
TCMR: Didn't the company's bankable feasibility study disappoint the market earlier this year?
CB: Though Northern Graphite's shares did sell off in the wake of the release of the bankable feasibility study, given the company's proven ability to execute on its goals, we find it puzzling that the stock has been pummeled this year. Project economics can change due to a host of factors and cost control is key to ensuring project completion to cash-flow generation. We anticipate news flow from Northern Graphite in the coming months from a 3,000-meter drill program, which can help optimize project economics. While Northern Graphite has fallen by -15% year to date, the shares are still trading 60% above the IPO price and have traded much higher. As other advanced graphite projects "move the needle" and release advanced studies of their deposits, we wouldn't be surprised to read news of cost inflation or other challenges.
TCMR: In addition to the filing of the mine closure plan, what catalysts are in the works for Northern Graphite?
CB: First, as we mentioned above, is the necessity to finance Bissett Creek. The shape of this funding could take several forms (a debt/equity split, for instance), and so finding a partner(s) to successfully accomplish this will mitigate the financing risk associated with the project and clear another hurdle.
Second, the 3,000-meter drill program I mentioned, which Northern Graphite began last month, consists of 65 holes. The company's goal is to upgrade Inferred resources to the Indicated category, helping improve the economics at Bissett Creek. It may also offer the potential to lower operating costs.
The bankable feasibility study currently states that the operating costs for the first five years of mining are $851/ton of concentrate. Obviously, a decrease in operating costs can help insulate against price volatility of different types of graphite. We have written frequently of the importance of understanding the "footprint" associated with each graphite deposit. These drill results can clarify and improve the attractive footprint Bissett Creek already offers. We are hopeful for results before year end.
TCMR: Any advice for investors looking to get into the graphite market?
CB: Many people ask me if graphite is still the "one to watch," or if it has had its day in the sun. My response is that graphite, due to its many unique properties, will remain the "one to watch" for some time. It's true that there was a huge run up in graphite exploration company share prices earlier in the 2012 with a resulting collapse, much the same as we saw with rare earths and lithium shares. I think this clouded graphite's true importance and significance in the workings of the global economy. Graphite's strength is in its ubiquity in current-day and future uses. Despite the fact that global steel demand is stagnant, the battery business is exhibiting strong growth. There are also huge sums of money going into materials science research surrounding battery technology and graphene. A breakthrough here could unleash major changes in how we generate and store electricity or fortify infrastructure.
The next 12–18 months will be an exciting time to watch the graphite space. We are seeing Magnesita Refratarios SA (MAGG3:BZ) attempt to vertically integrate its operation in Brazil and graphite production come onstream in countries as far flung as Germany and Sri Lanka. Several graphite junior mining companies will be releasing studies of their deposits or maiden resource estimates soon, which I think will aid in valuation on a relative basis. While the near-term outlook for many industrial minerals is somewhat uncertain, investors can profit over the longer term in graphite by finding those companies with the right blend of pertinent management experience, high-quality deposits (both grade and tonnage) and locations in reliable political jurisdictions.
TCMR: Thank you for sharing your insights, Chris.
CB: You are welcome.
Chris Berry, with a lifelong interest in geopolitics and the financial issues that emerge from these relationships, founded House Mountain Partners in 2010. The firm focuses on the evolving geopolitical relationship between emerging and developed economies, the commodity space and junior mining and resource stocks positioned to benefit from this phenomenon. Berry holds an MBA in finance with an international focus from Fordham University, and a bachelor's degree in international studies from The Virginia Military Institute.
Want to read more exclusive Critical Metals Report articles like this? Sign up for our free e-newsletter, and you'll learn when new articles have been published. To see a list of recent interviews with industry analysts and commentators and learn more about critical metals companies, visit our Critical Metals Report page.

DISCLOSURE:
1) JT Long of The Critical Metals Report conducted this interview. She personally and/or her family own shares of the following companies mentioned in this interview: None.
2) The following companies mentioned in the interview are sponsors of The Critical Metals Report: Northern Graphite Corporation. Interviews are edited for clarity.
3) Chris Berry: I personally and/or my family own shares of the following companies mentioned in this interview: Northern Graphite Corporation. I personally and/or my family am paid by the following companies mentioned in this interview: None. I was not paid by Streetwise Reports for participating in this interview.