Notable Quotes
"TMM is a favorite; it just had another record-breaking quarter." (5/24/13) Timmins Gold Corp. - The Gold Report Interview with Ivan Lo More >
"We are comfortable with CSI's ability to begin pouring gold by Q4/13." (5/16/13) Colossus Minerals Inc. - Joseph Fazzini, Dundee Securities More >
"BTO reported solid Q1/13 results; its balance sheet remains strong." (5/16/13) B2Gold Corp. - Morning Coffee More >
"The bankable feasibility study results on SGC's Asmara are positive." (5/16/13) Sunridge Gold Corp. - Adam Lucas, Ocean Equities More >
"Free cash flow at AR should be stronger in H2/13 as production ramps up at La Colorada." (5/15/13) Argonaut Gold Inc. - Christos Doulis, Stonecap Securities More >
Companies
Last:
Change:
Change(%):
Volume:
Open:
High:
Low:
52Wk High:
52Wk High:
Experts Commenting on This Company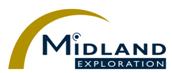 TICKER: MD:TSX.V
Midland Exploration is a dynamic and aggressive mineral exploration company focused on gold, base metals and REE mine discoveries in one of Canada's richest mining provinces, Quebec. The company is led by highly respected management and technical teams with a proven mine-finding track record. Midland intends to generate new attractive projects and seeks opportunities through industry partnerships (JV Model).

---
The information provided below is from analysts, newsletters and other contributors. Please contact the company and visit its website before making an investment decision.
Expert Comments:
Eric Lemieux, Laurentian Bank Securities (5/17/13) "Midland Exploration Inc. has acquired 100% interest in 29 claims (in two blocks) on the Cadillac Break in the Abitibi. . .we believe that this acquisition is strategic and inexpensive. . .the company is continuing to apply its prospector-generator model and acquire strategic land claims in prospective regions. . .Midland is expected to remain active in exploration in 2013 and holds sufficient funds to do so (~$4.5M in cash)."
Adrian Day, Global Analyst (4/27/13) "Midland Exploration Inc. is our other favorite Quebec exploration company; it continues to have positive news at many projects, none overwhelmingly significant by themselves, but together demonstrating the validity of the prospect-generator model and bringing increased potential to Midland. . .with 20 properties and partners like Agnico-Eagle and JOGMEC, Midland, with over $5M in the bank, is well positioned for an active year and news flow, with assays pending from two drill programs. . .the company, down 25% in the last few weeks, is a Strong Buy here."
Eric Lemieux, Laurentian Bank Securities (4/18/13) "Midland Exploration Inc. announced that Agnico-Eagle Mines Ltd. would be pursuing an underground drilling campaign at the Lapa mine. . .this drilling campaign will serve to test the potential expansion of the gold corridor at depth. . .we are maintaining our Speculative Buy rating and our $1.65 target price on Midland."
Eric Lemieux, Laurentian Bank Securities (3/29/13) "Drilling has resumed on Midland Exploration Inc.'s Laflamme property, targeting two new gold-bearing structures. . .the company has a strong cash position (~$6M) and established joint venture and option agreements. We believe that Midland is very well positioned along the Casa Berardi-Cameron Deformation Zone, the Detour Gold Trend and in the Eleonore sector of the James Bay region in northwestern Quebec."
The Gold Report Interview with Eric Lemieux (3/15/13) "Midland Exploration Inc. is focused in Quebec with projects also along the Destor-Porcupine and Cadillac faults. . .[it is] an active, quality project generator with quality partnerships. It should be active on the Casault project east of Detour Lake with Osisko through an ongoing 2,500m drill program. Midland could potentially be another Virginia Mines because of its business model, tight share structure and focus. . .Midland and Osisko have completed thorough surface and aerial geophysical work that should lay the foundation for an interesting 2013 winter drill program on Casault. If it's able to hit, it will light up and have positive indications for Midland. Midland has a diversified portfolio. It's actively looking for partners and has a solid cash position of $6M. It has an established track record. That all bodes well for its shareholders." More >
Midland Exploration Inc. Content
---