Companies
Last:
Change:
Change(%):
Volume:
Open:
High:
Low:
52Wk High:
52Wk High:
Experts Commenting on This Company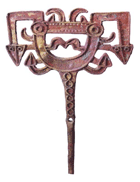 TICKER: TK:TSX.V; TLD:FSE; TKRFF:OTCPK
Tinka Resources Ltd. is a junior exploration company based in Vancouver, Canada, that is developing its 100%-owned Colquipucro and Ayawilca projects. The projects are located 40km northwest of Cerro de Pasco in the richly mineralized silver-lead-zinc belt of Central Peru, with 46 contiguous mineral tenements covering an area of 9,827 ha. Diamond drill programs are underway at both projects, which have similar structural controls. An NI 43-101 report has determined an Inferred resource of 32.7 Moz silver at Colquipucro, while ongoing work at Ayawilca has outlined a zinc-rich massive sulphide target.
---
The information provided below is from analysts, newsletters and other contributors. Please contact the company and visit its website before making an investment decision.
Expert Comments:
Greg McCoach, Mining Speculator (5/17/13) "Tinka Resources Ltd. is another company that could be onto a major discovery in Peru of silver, lead and zinc. . .it sure looks good in my opinion at this particular juncture. . .despite the lousy market and the free trading shares, the company has held up rather well; it has been able to raise monies in this market, which tells us something in and of itself. . .I like its chances moving forward for a big discovery that would attract the attention of the majors. . .I am still very positive for the prospects of Tinka Resources."
The Gold Report Interview with Michael Ballanger (1/18/13) "Tinka Resources Ltd.'s Colquipucro property in Peru is a great asset. I have been recommending Tinka to Gold Report readers since 2009. . .in December 2012, Tinka moved its Zone 1 silver resource from 20.3 Moz to 32.7 Moz, under budget and in a very acceptable timeframe. The share price responded; the market went to $0.75–$0.80/share. If the company moves forward over the next 6–12 months to a level representative of fair value relative to its proven resource, it can do a much bigger financing at fair value. This gives the early shareholders a significant lift and, most important, a reason to hold the shares. . .
"The second thing that sets this resource apart is that it is all on the surface; it is in an oxide zone, amenable to leaching, and you get 97% recovery rates after 72 hours using bottle-roll technology. The feasibility of putting something like this into production with a very low capital expenditure is extremely high. This offers a level of security for Tinka's shareholders—you can get that valuation metric with very little risk. Ayawilca is a new, massive zinc sulphide discovery made in late 2011. It is my passion. I am a base metal person and massive sulphides are the Holy Grail for me. When Tinka started hitting intercepts of massive sulphides containing economic-grade zinc, the hair on the back of my neck started to stand up; this thing has structure. The geophysics say that Ayawilca has elephant capabilities. . .I am really excited about Tinka and its current share price objective has not factored in Ayawilca." More >
James West, Midas Letter (1/7/13) "Tinka Resources Ltd. closed a private placement in December, raising another $2.25M through the issuance of 3M units at $0.75 each, consisting of a share and a warrant good for one year at a buck. . .also in December, the company announced it has signed an agreement with the Pillao community, guaranteeing access to the Colqupucro project. This is an extremely important accomplishment for Tinka."
Greg McCoach, Hotline (12/6/12) "The chart on Tinka Resources Ltd., versus the general market, says something is going on. . .it is in the midst of drilling and the share price keeps pushing higher. . .this company could be on the verge of a big discovery. . .drill results will soon tell the story. . .for an exploration story, this is one to keep."
The Gold Report Interview with Greg McCoach (10/15/12) "In South America, on the exploration side, I like a company called Tinka Resources Ltd., which is currently drilling some very large, very high-grade base-metal anomalies: silver, lead and zinc. Originally, the company had 20 Moz silver in an NI-43-101-complaint resource that it has built further. In addition, it has found some other very high-grade lead and zinc resources. We're hoping that this drilling really breaks open the understanding of these areas. This is on a major trend in central Peru going down into Chile that is known to host large volcanic massive sulfide deposits, which are known to be very high-grade and highly profitable. I've been following the story for quite some time and I like what I'm seeing there. Drilling is currently underway and it should get some assays that could really move this story forward. Tinka is one to watch right now." More >
Tinka Resources Ltd. Content
Read About Tinka's Colquipucro Project in an Article by Mining Leaders
---