First Tellurium Corp. (FTEL:CSE; FSTTF:OTCQB) announced its property-wide mapping and sampling program at its Deer Horn property in British Columbia has reinforced a key porphyry alteration model and provided targets for the company's mid-September drill campaign.
Exploration on the property confirmed a structural connection between its Pond copper porphyry and gold-silver-tellurium systems. The company said it will place one drill pad in the Pond zone and two drill pads in the Saddle-New vein area.
"Knowing now that the porphyry and the main gold-silver-tellurium vein systems are connected turns this into a significant target covering a vast amount of ground," First Tellurium President and Chief Executive Officer Tyrone Docherty said. "The Pond Zone and Main Vein system are 5 kilometers (more than 3 miles) apart. This all adds to our information base for the bigger drill program to follow."
In preliminary results, graduate students from the University of British Columbia and the University of St. Andrews found the connection between the project's Pond copper porphyry and gold-silver-tellurium systems.
Earlier this month, Technical Analyst Clive Maund named First Tellurium as a part of his 8 Stocks that are Rated Immediate Buys list.
The team collected 130 rock samples from the property. Of those, 119 were in for assays, and four were undergoing tests to help understand the age of the rocks and the sequence of geological events at the site. Five samples are receiving thin-section petrographic analysis, and ten are undergoing X-ray powder diffraction analysis, the company said.
The mapping and sampling program will be added to the exploration conducted by Deer Horn in 2012, which discovered several significant mineralized zones. Students are working this summer under the direction of First Tellurium consultant and Qualified Person Dr. Lee Groat.
"The location and orientation of both the Pond and Saddle porphyry zones align with well-established porphyry alteration zone models," Groat said. "The alteration zones observed on surface indicate that a potassic zone lies in the subsurface at the Pond area. This is one of the key markers for a mineralized copper porphyry . . . All of this information reinforces the premise that Deer Horn supports a copper porphyry system in an area that has never been drilled."
The Catalyst: Continent's Only Positive PEA for Tellurium
Deer Horn is known to have the only positive preliminary economic assessment (PEA) for a tellurium project in North America and was named a world-class project by solar panel maker First Solar Inc. (FSLR:NYSE).
The sampling, drilling, and upcoming induced polarization (IP) survey at Deer Horn are all designed to support the follow-up drill program, which is expected to test the extent of the mineralization between the systems.
First Tellurium said about 200 structural measurements have been taken of primarily sulfide-bearing veins across Deer Horn. Those veins' main groupings intersect at 60 degrees along the thrust plane.
"These orientations appear to be consistent throughout the property across several lithological units," the company has noted. "This suggests that these spatially separate mineralized veins on either side of the property formed as a result of the same structural regime and are likely a part of a larger ore-forming process that generated both the Deer Horn Au-Ag-Te and Pond copper porphyry mineralization."
Deer Horn's PEA was calculated on 450 meters of the original 2.4-kilometer gold-silver-tellurium vein system.
In addition, the company's Klondike tellurium project in Colorado is considered America's top tellurium exploration project and was previously owned by First Solar as a potential source of raw tellurium for its solar panels.
Earlier this month, Technical Analyst Clive Maund named First Tellurium as a part of his 8 Stocks that are Rated Immediate Buys list.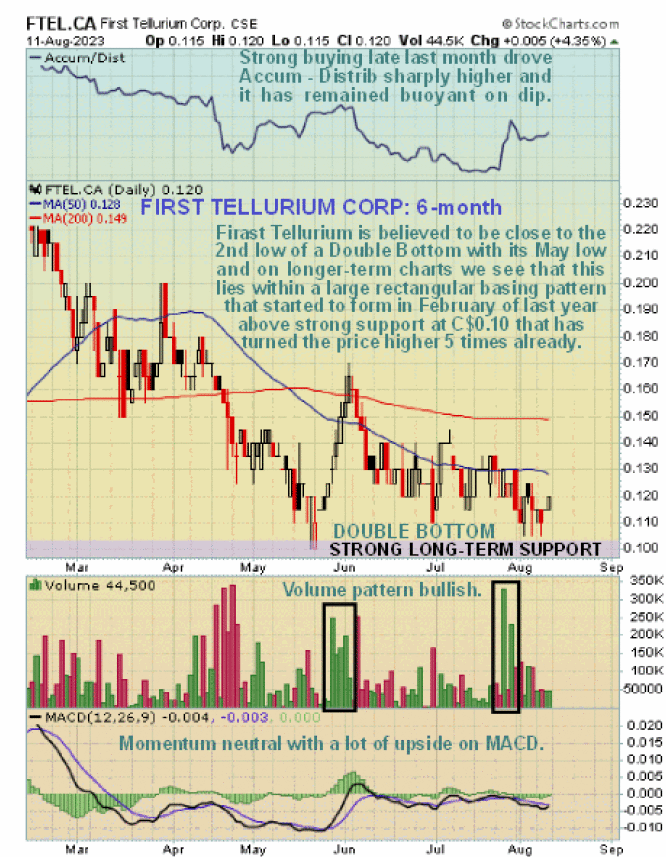 Maund shared the above chart and said, "First Tellurium has been bumping along the bottom in recent months with heavy buying late in May and again late last month, that drove the Accumulation line sharply higher, suggesting that it is readying to advance. Longer-term charts show big support in the CA$010 area, from which it has repeatedly rallied, underpinning the price, and with it still only at 12 cents, it looks like a Strong Speculative Buy here. Even if it only makes it up to the top of the trading range of the past 18 months, it will double from here."
Expanding Solar Industry Needs Element
Tellurium is needed for the green energy transition but is one of the least common elements on Earth, according to the U.S. Geological Survey. Most rocks contain an average of about three parts per billion, making them eight times less abundant than gold.
Its use as a semiconductor in solar photovoltaic (solar PV) panels has increased. It is also used in thermoelectric applications, lithium batteries, vulcanizing rubber, tinting glass, and manufacturing rewritable CDs and DVDs.
The market for tellurium is expected to grow by about 60 metric tons from 2020 to 2024, according to research by Technavio.
The U.S. solar industry had its best first quarter in history this year, installing 6.1 gigawatts (GW), according to a report by the Solar Energy Industries Association and Wood Mackenzie.
The solar market is expected to triple in size over the next five years, bringing the total installed solar capacity to 378 GW by 2028, the report said.
The market for tellurium is expected to grow by about 60 metric tons from 2020 to 2024, according to research by Technavio.
Streetwise Ownership Overview*
*Share Structure as of 7/21/2023
"Factors such as increasing urban population, rise in disposable income, strong supply chain, and high internet penetration are driving the growth of the global consumer electronics market," the research firm said in a release. "The increase in demand for consumer electronics will, in turn, drive the demand for tellurium over the forecast period."
Ownership and Share Structure
According to the company, 11% of First Tellurium is owned by management and insiders.
Docherty owns 10.6% or 7.7 million shares, Director Josef Anthony Steve Fogarassy has 1.38% or 1 million shares, and Director Lyle Allen Schwabe has 0.73% or 0.53 million shares. There are no institutional investors, and the rest is retail.
The company has a market cap of CA$9.53 million, with about 73 million shares outstanding and 63.4 million free-floating. It trades in a 52-week range of CA$0.245 and CA$0.10.
Sign up for our FREE newsletter
Important Disclosures:
First Tellurium Corp.

has a consulting relationship with an affiliate of Streetwise Reports, and pays a monthly consulting fee between US$8,000 and US$20,000.
As of the date of this article, officers and/or employees of Streetwise Reports LLC (including members of their household) own securities of

First Tellurium Corp.

Steve Sobek

wrote this article for Streetwise Reports LLC and provides services to Streetwise Reports as an employee.
The article does not constitute investment advice. Each reader is encouraged to consult with his or her individual financial professional. By opening this page, each reader accepts and agrees to Streetwise Reports' terms of use and full legal disclaimer. This article is not a solicitation for investment. Streetwise Reports does not render general or specific investment advice and the information on Streetwise Reports should not be considered a recommendation to buy or sell any security. Streetwise Reports does not endorse or recommend the business, products, services or securities of any company mentioned on Streetwise Reports.
For additional disclosures, please click here.