Other Streetwise Reports
The Gold Report
The Energy Report
The Life Sciences Report
The Mining Report
Today's Featured Company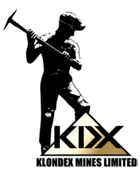 Klondex Mines Ltd.: (KDX:TSX; KLNDF:OTCBB) Klondex Mines Ltd. is focusing on the exploration, development and production of its two high-quality gold and silver projects in the mining-friendly jurisdiction of north-central Nevada. The 1200 tpd milling facility is processing mineralized materials from the Midas mine and the Fire Creek project. More >
Streetwise Expert Interviews

An aging world is a deflationary one, according to "The Demographic Cliff" author Harry Dent. In this interview with The Gold Report, he predicts a major, painful crash in the next two years based on population statistics and historic patterns. He has some positive short-term predictions for gold, and investment suggestions for how to be one of the ones still standing after the dust settles.
(11/26/14)
More >
As we approach Thanksgiving in the States, Streetwise Reports reached out to some of our most popular experts for perspective on the natural resource market during this volatile time. While some thought 2014 was so bad it was good—for contrarian investors—others will be all too happy to see the year in the rearview mirror.
(11/25/14)
More >
Read more Streetwise Interviews. . .
Florian Siegfried, head of precious metals and mining investments with Zurich-based AgaNola, believes all-paper M&A will gain pace, with a focus on companies that are making money at current gold prices, while still trading at multiyear lows. (11/24/14) More >
Expert Analysis
"We reiterate our Outperform rating for TV." (11/25/14) Trevali Mining Corp. - Adam Low, Raymond James More >
"We remain optimistic about AXR's prospects at Keno Hill." (11/20/14) Alexco Resource Corp. - H.C. Wainwright & Co. More >
"We are maintaining our Buy recommendation on GSV." (11/20/14) Gold Standard Ventures Corp. - H.C. Wainwright & Co. More >
"VGZ continues to work toward final permits for the Mt. Todd project." (11/20/14) Vista Gold Corp. - Jeff Wright, H.C. Wainwright & Co. More >
"PGLC's Relief Canyon could provide a 'turnkey' scenario." (11/20/14) Pershing Gold Corp. - H.C. Wainwright & Co. More >
"LODE may continue to expand its footprint, ultimately increasing production." (11/20/14) Comstock Mining Inc. - H.C. Wainwright & Co. More >
"Our positive outlook on P remains unchanged following Q3/14 results." (11/19/14) Primero Mining Corp. - Dan Rollins, RBC Capital Markets More >
"FVI has delivered on all fronts and has been rewarded, outperforming silver peers by 63% YTD." (11/11/14) Fortuna Silver Mines Inc. - John Kratochwil, Canaccord Genuity More >